Board Level Solutions
Diamond Systems offers a broad product line of rugged board level solutions rich in I/O functionality. Our board level products range from single board computers to I/O expansion modules and DC/DC power supplies.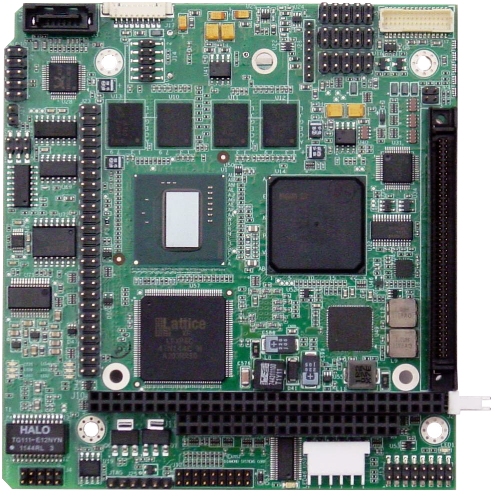 Athena III PC/104 SBC

Diamond's boards are designed from the ground up to meet the rigors of harsh and hostile environments, including the extreme cold found in airborne systems, the extreme heat of desert environments, and the vibration inherent in diesel locomotives. Most products support -40ºC to +85ºC and high resistance to shock and vibration.

Our board level solutions are available in one of three categories:

Off-the-shelf rugged boards
Customized boards
Full custom board designs


| | |
| --- | --- |
| | Off-the-Shelf Rugged Boards |
Diamond Systems offers a range of rugged SBCs, stackable I/O modules and power supplies designed to excel in the harsh environments typical of rugged computing applications.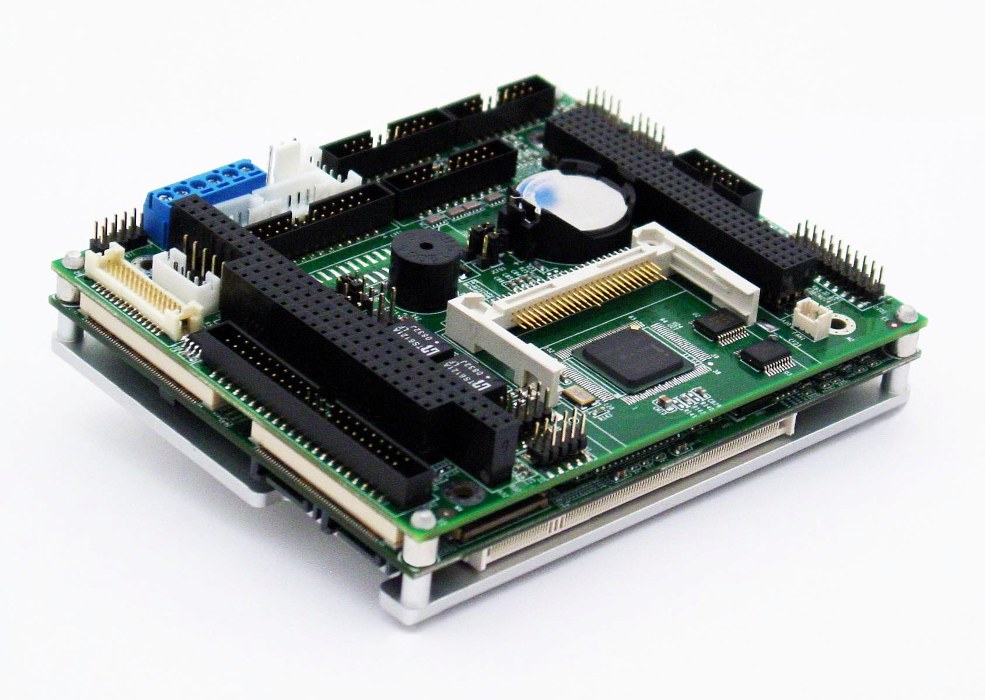 Pluto ETX SBC

Our compact, rugged, wide-temperature SBCs are based on a variety of power/performance CPUs -- ranging from DMP's Vortex86 to Intel's latest Atom and Core 2 Duo processors -- and conform to popular embedded form-factors. Built-in interfaces include standard functions such as VGA/LCD graphics, USB, Ethernet, serial ports, parallel, IDE, SATA, floppy, keyboard/mouse, and audio. Additionally, many Diamond SBCs are unique in their inclusion of on-board data acquisition features.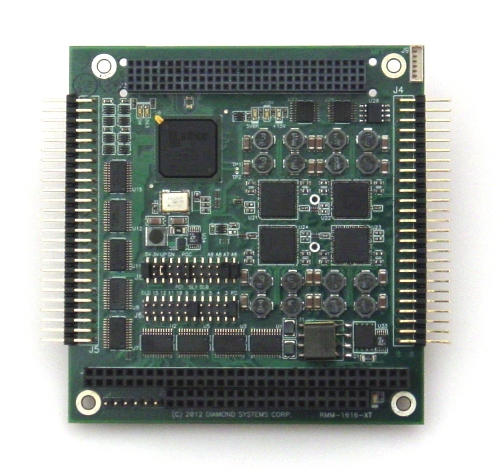 Ruby-MM Analog Output Module

Diamond has been a leading supplier of rugged, wide-temperature small form factor I/O expansion modules since the initial release of the PC/104 standard in 1992. Our extensive line of rugged, wide-temperature I/O expansion modules currently includes analog input, analog output, digital I/O, optoisolated inputs, relay outputs, counter/timer functions, RS-232/422/485 serial ports, Ethernet networking CAN fieldbus, GPS, and power supplies. These products are implemented according to several popular embedded I/O expansion formats, including the PC/104, PC/104-Plus, EMX, PCIe MiniCard, and FeaturePak standards.
| | |
| --- | --- |
| Single Board Computers | Rugged, wide-temperature SBCs in PC/104, PC/104-Plus, EPIC, EBX, and other compact form-factors |
| Analog I/O Modules | An industry-leading family of PC/104, PC/104-Plus, and FeaturePak data acquisition modules featuring A/D, D/A, DIO, and counter/timer functions |
| Digital I/O Modules | Wide-temperature PC/104, PC/104-Plus, and FeaturePak modules featuring programmable bidirectional digital I/O, counter/timers, optoisolated inputs, and relay outputs |
| Communications Modules | Rugged, wide-temperature PC/104, PC/104-Plus, and FeaturePak modules featuring standard and optoisolated RS-232/422/485 serial interfaces, Ethernet, WLAN, CAN bus, GPS, and digital I/O functions |
| Power Supplies | DC/DC power supplies & stackable rechargeable battery packs |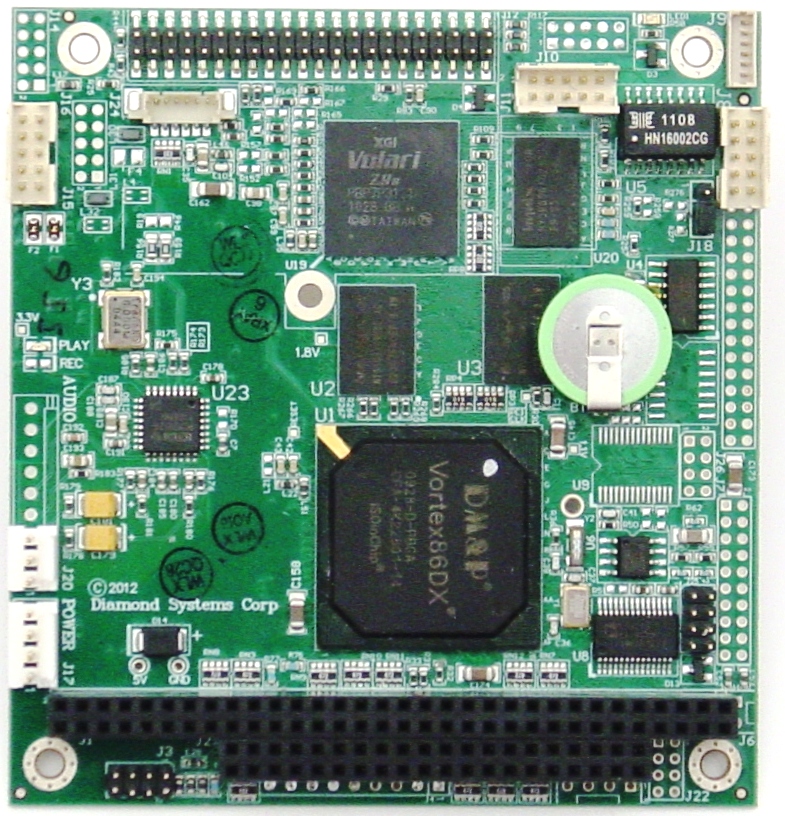 Customized Helios SBC

Each customer's application is unique in some way, so off-the-shelf products do not always meet all customers' needs economically. Diamond's Standard Product Variant (SPV) process is designed to better meet the exact requirements of your application.

We offer a variety of common customizations to our products. These are fully backed with document control procedures to ensure proper archival of product documentation and conformance of our products to your unique needs. The delivery of a wide variety of SPV products to customers in military, transportation, medical, industrial automation, and energy markets over the last two decades attests to the reliability and effectiveness of our process.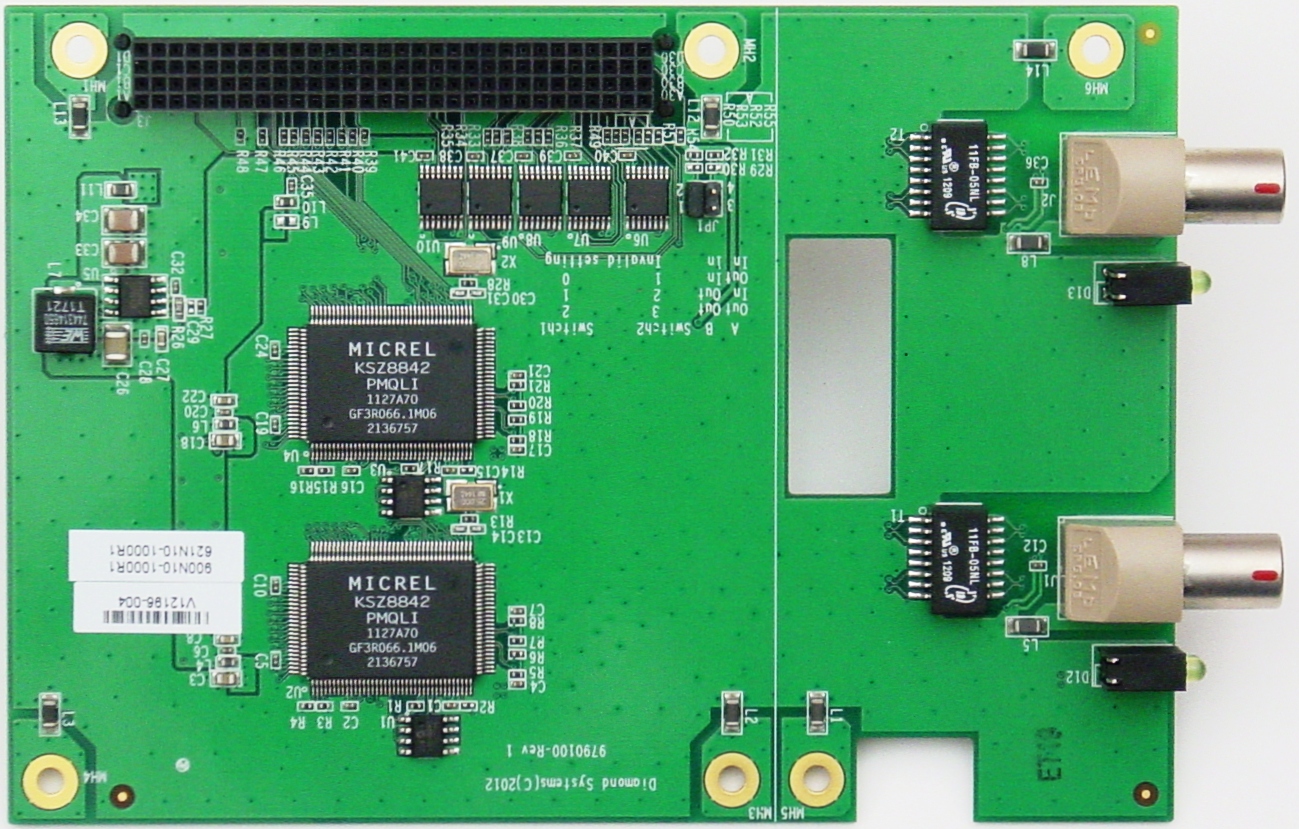 Custom Dual LAN Module


Diamond Systems designs and builds complete custom embedded boards to your specifications. We base these products on our existing designs and technologies in order to lower design costs and reduce time to market. Products can be delivered for either a single project or ongoing production.

Recent examples include a compact SBC with integrated data acquisition, a serial communications board for a locomotive control panel, a relay and optoisolated I/O board for an assembly line tool, and a compact Ethernet switch. Minimum order quantity and NRE charges depend on the nature of the project.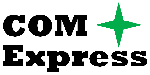 Sumit
TM


The Diamond Systems logo is a trademark of Diamond Systems Corporation. PC/104, PC/104-Plus, PCIe/104, EPIC, and EBX are trademarks of the PC/104 Embedded Consortium. SUMIT is a trademark of the SFF-SIG. All other trademarks are the properties of their respective owners.
| | | |
| --- | --- | --- |
| | Markets & Applications | |
| | | |
| --- | --- | --- |
| | Products & Technologies | |
| | |
| --- | --- |
| | Single Board Computers |
| | Wide range of processor speeds and performance |
| | Computer-on-Modules |
| | Coduction Cooling |
| | Analog I/O |
| | Digital I/O |
| | Counter/timers |
| | Serial & Ethernet |
| | CANbus |
| | GPS/Wireless |
| | DC/DC Power Supplies |
| | Enclosures |
| | OS & Driver Software |
| | FPGA logic design |
| | A/D Autocalibration |
| | | |
| --- | --- | --- |
| | Value-added Capabilities | |
| | | |
| --- | --- | --- |
| | Customer Benefits | |
| | |
| --- | --- |
| | Single Supplier |
| | Guaranteed Compatibility |
| | Improved Accurancy |
| | Reduced Size/Cost |
| | Increased Ruggedness |
| | Increased Reliability |
| | Easy System Expansion |