COM-Based Single Board Computers
Diamond Systems is the pioneer of small form factor COM-based single board computers using industry standard computer-on-modules (COMs), full featured I/O baseboards, and integrated thermal solutions.


| | |
| --- | --- |
| | Benefits of COM-Based SBCs |
Scalable CPU performance and long life
High feature density
Access to the latest CPU technology
Compact size
Single vendor solution
Reduced time to market
Reduced purchasing/logistics/total cost of ownership



Since virtually all of today's embedded processors offer limited lifecycles of 5-7 years, any long-life product dependent on a single-board computer (SBC) is guaranteed to require redesign sometime during its lifecycle. Typical industrial product lifecycles of 10-20 years (as is common in military, transportation, and medical products) may call for 2, 3, or even 4 such redesign efforts. Such efforts can be extremely costly, not only in terms of the actual design activity but in terms of inventory management, documentation management, manufacturing changeover, and after-market service as well.

When (not if) the COM reaches the end of its life, it can be replaced with a newer COM with relative ease, while the rest of the system, including the I/O, power supply, connectors, cabling, and physical dimensions remain exactly the same. In this way long lifecycles are much more easily supported. In addition, customers can create multiple configurations of their systems, selecting a different COM for each one based on price, performance, and power considerations.

A COM-based SBC combines the high-performance processing and leading-edge system I/O capabilities of COMs with the modular expansion flexibility of stackable single board computers, all within a single compact, rugged, reliable, pre-integrated module. Additionally, the modules' large thermally-conductive baseplate provides both an efficient cooling solution and a standardized mounting-hole pattern that ensures interchangeability for alternate features or performance upgrades.

These SBCs consist of three layers, as illustrated below. The central core is its COM layer. Below the COM layer is the thermally-conductive baseplate layer. Above the COM layer is the application layer, which provides I/O interface connectors, expansion module sockets, and in many cases additional functionality.



This innovative design provides optimal thermal management, and makes it possible to integrate complete embedded-PC functionality plus a full set of peripheral interface header connectors, stackable I/O expansion, a variety of expansion sockets, an on-board flashdisk, and extra features such Ethernet interfaces, serial ports, and an on-board DC/DC power supply -- all within compact, industry standard small form factors such as COM Express or ETX.
These highly integrated board-level subsystems can be used as plug-and-play embedded components or as platforms for application development and reference designs.
Click below for detailed product information on Diamond's COM-based SBCs:
3.5 Inch
Compact 4x4
EPIC

Neptune EPIC SBC

EPIC SBC with Intel E3845 or AMD Fusion G-T56N/G-T40N CPU, integrated autocalibrating data acquisition, DC/DC power supply, and configurable ETX CPU

COM Express
ETX

Pluto ETX SBC

ETX SBC with Intel E3845, AMD Fusion G-T56N or G-T40N CPU, PC/104-Plus expansion and configurable ETX CPU
> >
See our Single Board Computer comparison chart
< <
For customers who prefer to use a third party's computer-on-module, Diamond's COM baseboards are available separately. Our rugged off-the-shelf I/O baseboards are packed with a wealth of I/O features and are available in a variety of small form factors including COM Express, ETX and EPIC.
| | |
| --- | --- |
| | Custom I/O Baseboards |
Diamond Systems designs and builds complete COM-based SBC custom I/O baseboards for medium to high volume applications. We base these products on our existing designs and technologies in order to lower design costs and reduce time to market. Products can be delivered for either a single project or ongoing production.
Click here for more information on Diamond's customization services.
| | |
| --- | --- |
| | Traditional Single Board Computers |
Diamond also offers traditional SBCs in a variety of small form factors designed to thrive in harsh environments. They feature extended temperature operation of -40ºC to +85ºC and high resistance to shock and vibration.
Some are 2-in-1 SBCs that combine the core computing capabilities of a typical embedded SBC with a complete analog and digital data acquisition sub-system, resulting in a thinner, lighter, more rugged, and easier to assemble embedded computing platform.
Click here for a list of our small form factor SBCs.
| | | |
| --- | --- | --- |
| | Available Products | |
Diamond offers COM-based SBCs in three popular form factors:
EPIC with
1.91GHz Intel Bay Trail E3845 or
1.65GHz AMD G-T56N or
1.0GHz AMD G-T40N CPUs
ETX with
1.91GHz Intel Bay Trail E3845 or
1.65GHz AMD G-T56N or
1.0GHz AMD G-T40N CPUs
COM Express with
2.1GHz Intel Core i7-3612QE or
1.7GHz Intel Core i7-3517UE CPU or
1.4GHz Intel Celeron 827E CPU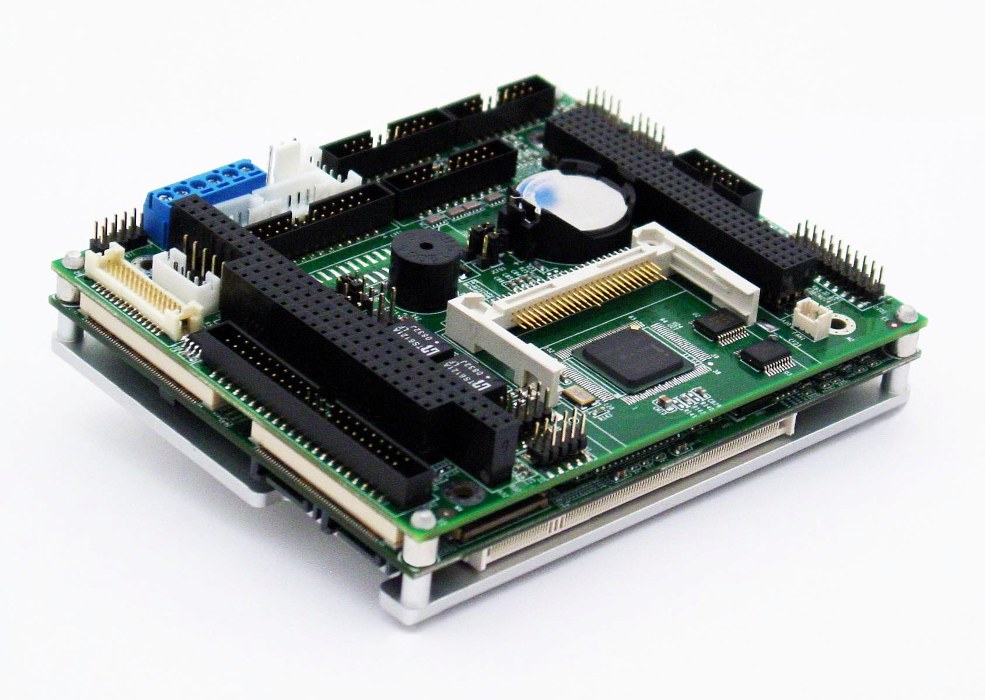 Pluto ETX SBC
| | | |
| --- | --- | --- |
| | Featured Product | |
Neptune SBC Family
Neptune is a family of EPIC SBCs that utilize ETX COM CPU modules to provide a range of processor options, including the 1.91GHz Intel Bay Trail E3845 CPU. Available I/O features include on-board data acquisition with 32 channels of 16-bit analog input, 4 channels of 12-bit analog output, 24 digital I/O lines, 8 optically isolated inputs, 8 optically isolated outputs, and 2 programmable counter/timers. Standard PC I/O includes 4 USB 2.0, 6 serial, 1 10/100 and 1 Gigabit Ethernet, SATA, and CompactFlash. Neptune also features a 40W 8-28V wide voltage power input.