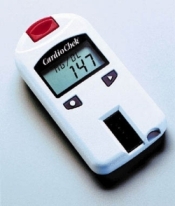 Application Overview:
There are currently 17M diabetic patients in the USA and the Word Health Organization predicts there will be 34M diabetics in the USA by 2025. The blood chemistry test strip domestic market is $2.4B/year. An exciting new start-up medical device company has decided to enter into this segment of the market with a new glucose monitoring device which would replace current finger-prick methods. They will be the first to market using a noninvasive, low coherence backscatter technologies for medical devices. Their new device must be low cost, light weight and is targeted for home use. Diamond Systems was approached because of our vast computing and data acquisition expertise with highly reliability and small formfactor platforms.
Customerís Requirements:
The physical requirement for this device is about the size of a PDA. Their proprietary hardware interfaces through ISA bus with an embedded computing platform. This platform must be highly modular and scaleable with the utmost accuracy and rock-solid reliability. Their device draws precise measurements and derives sophisticated readings which are then displayed on an accompanying LCD.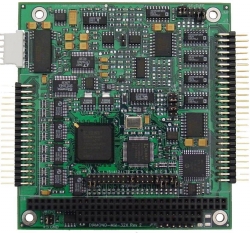 Diamondís Baseline of Technology:
The Morpheus CPU provided all the onboard functionality and processing power required at a low cost. Additionally, Diamond-MM-32X A/D module provides all the required A/D technology and addressed measurement accuracy with its patented auto-autocalibration technology.
Provisioning Services:
ē Standard Product Variant ē Level 1 Hardware Core Integration The customerís device required the CPU to interface with a custom NEC display. Diamond Systems brought the display in house and ensured interoperability by supplying proper cabling and making BIOS modifications to the Morpheus-400 CPU. An additional requirement was to output a pyramid waveform at a specific frequency and read the large volume of data over a rapid sampling rate. Both The data and the pyramid waveform required synchronization. Diamond Systems took advantage of the onboard FPGA and modified its firmware code for the Diamond-MM-32X in order to provide a custom waveform generator with 400KHz A/D that provided a high sample rate which assured the customer of an accurate data reading every time. Accurate measurements are further assured through Diamond-MM-32Xís patented auto-autocalibration technology, which represents a major step forward in embedded analog I/O technology. While other analog I/O boards contain autocalibration circuitry onboard, they require additional application software to manage the calibration process. DMM-32X-AT is self-contained and has all the intelligence and control needed for the calibration process directly onboard. This means the board can calibrate itself whenever needed. No software, No user intervention is required. The board is completely self-sustaining, resulting in carefree accurate measurements over the lifetime of the product. This is just yet another example of how Diamond Systemsí extended services program can benefit our customerís broad spectrum of application challenges.
Click here to return to the main article list.