Products
>
Processor Modules
>
Single Board Computers
>
Rhodeus PC/104 SBC
Rhodeus PC/104 SBC
Low-Cost, Low-Power AMD Geode LX800 PC/104 SBC with CRT/LCD, LAN and CompactFlash
| | |
| --- | --- |
| | Description |
Rhodeus is a fan-less PC/104 SBC which features the AMD Geode LX800 low power consumption processor running at 500MHz. It uses high speed DDR SDRAM providing maximum capacity at 1GB. Rhodeus offers fully integrated PC functionality with low power consumption which allows Rhodeus to operate in harsh environments where the airflow for heat dissipation is restricted and heat sinks or fans are unacceptable. Its ruggedability gives it the power to perform round-the-clock in unattended environments.
Other advantages of Rhodeus includes high speed 10/100 Ethernet LAN and ample I/O interfaces, 2 serial ports, 2 USB 2.0 ports, parallel port for peripheral connection, 1 ATA-33 channel, Compact Flash Type-II socket, PC/104 expansion bus, LCD & CRT interface, floppy, and watchdog timer. Rhodeus has all the necessary features and expansion capability in 96 X 90 mm form factor, which makes it ideal for applications where space is limited but multiple I/O configurations are needed. Rhodeus supports Windows 2000, Windows XP, Windows CE 5.0, and Linux.
| | |
| --- | --- |
| top | |
| | System Block Diagram |
| | |
| --- | --- |
| top | |
| | Development Kit |
A Linux software development kit is available for Rhodeus. The Rhodeus Linux Kit (SDK-RDS-LNX) contains a 512MB CompactFlash disk with a bootable linux image pre-loaded, a software CD with the linux tool chain and a backup image, and documentation.
| | |
| --- | --- |
| top | |
| | Pandora and Panel I/O Board |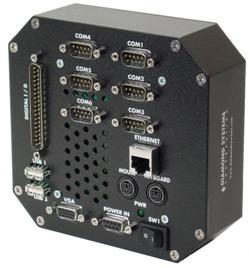 Rhodeus single board computers can be mounted inside Diamond's Pandora PC/104 enclosure with a cable-free panel I/O board to form a rugged, compact, completely self-contained industrial computer system. The Pandora enclosure, coupled with the panel I/O board, features fast and easy assembly because most or all internal cables can be eliminated. Rather than requiring the installation of special corner mounts or forcing the stack into a set of corner guides, the entire stack is bolted directly to the front plate of the case, forming a rugged, easily-handled assembly. Click here for more information on the Pandora PC/104 Enclosure.

Transition Cables or PC-Style Connectors
All I/O on Rhodeus is made available on 2mm pitch pin headers for use with low-cost cables. To enhance the use of Rhodeus in harsh environments requiring outstanding resistance to shock and vibration, Diamond Systems offers our rugged Pandora PC/104 enclosure that provides a cable-free configuration via a small panel I/O board that installs directly on top of the Rhodeus SBC to instantly convert all I/O to PC-style connectors.
| | |
| --- | --- |
| top | |
| | Specifications |
CPU and System

Processor

AMD Geode LX800 processor at 500MHz

Cache

64k L1 cache and 128k L2 Cache

Memory

1 x 200-pin DDR SO-DIMM up to 1GB SDRAM

Chipset

AMD LX800 + CS5536

BIOS

Phoenix-Award PnP Flash BIOS

ATA/IDE

1 x Ultra DMA 33, support 2 IDE drives

Flash Disk

1 x CompactFlash Type II Socket up to 8GB

Audio

Speaker Out

Watchdog Timer

255-level Reset

I/O

Serial Port

1 x RS-232 ports (COM1)
1 x RS-232/422/485 port (COM2)

Parallel Port

SPP/EPP/ECP mode

Floppy

Support 1 x Floppy disk drive

USB Port

2 x USB 2.0 port

KB/MS

1 x PS2 K/B and Mouse

Expansion Bus

1 x PC/104 interface

Ethernet

Chipset

Realtek 8100CL 10/100 base-T Ethernet

Display

Graphics Chipset

AMD Geode LX800 CPU integrated VGA controller
with 2D Engine (Shared memory Max. 64MB)

Graphics Interface

LCD support 18/24 bit TTL up to 1280 x 1024

General

Power Input

5V +/-5%

Power Consumption

5W typical (1A)

Operating Temperature

-40șC to +85șC or -20șC to +71șC

Operating Humidity

0 ~ 90% (non-condensing)

Dimensions (L x W)

96 x 90 mm (3.775" x 3.550")

MTBF

RDS800-XT 157,899 hours at 25șC

RoHS

Compliant
| | |
| --- | --- |
| top | |
| | Get An Online Quote |
| | | |
| --- | --- | --- |
| | Rhodeus PC/104 SBC | |

Rhodeus-XT SBC, 500MHz LX800, 0MB RAM, -40șC to +85șC

Rhodeus-LC SBC, 500MHz LX800, 0MB RAM, -20șC to +71șC

Rhodeus Panel I/O Board with mounting hardware

Rhodeus Linux 2.6.23 Software Development Kit with Linux image on 512MB CompactFlash disk and software tools on CD, and documentation
| | | |
| --- | --- | --- |
| | Cables and accessories | |
PC/104™ is a trademark of the PC/104 Embedded Consortium. All other trademarks are the property of their respective owners.