Products
>
Processor Modules
>
Single Board Computers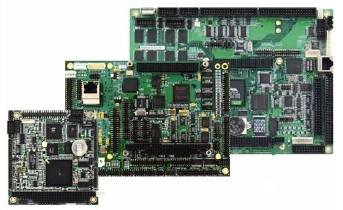 Single Board Computers
Our extensive line of compact, rugged SBCs is based on CPUs targeting embedded applications, ranging from the economical AMD LX800 and Vortex86DX to the high performance Intel Core i7 latest generation U series Skylake/Kaby Lake. These products adhere to industry-standard form factors such as PC/104, COM Express, ETX, EPIC, and EBX.
Our SBCs are designed with 2 key criteria in mind: ruggedness and I/O. On average a DSC SBC will provide more I/O and greater ability to withstand harsh environments than other SBCs of the same size, CPU class, and price category.
| | |
| --- | --- |
| | 2-in-1 Design |
Most of our SBCs are 2-in-1 products. These boards incorporate a complete professional-quality data acquisition subsystem onto the board. By eliminating an add-on board required with other SBCs, this integration significantly reduces the size and weight of a system requiring analog I/O and can also to provide significant cost savings. Diamond pioneered this concept and still leads the industry in its implementation.
| | |
| --- | --- |
| | Conduction Cooling |
Most of our newer SBCs utilize superior conduction cooling for thermal management. Instead of the traditional heat sink which inefficiently transmits heat to low-mass air trapped inside the box, a conduction-cooled SBC utilizes a flat plate with a large surface area to transmit the heat directly to the much higher mass enclosure wall. Conduction cooling significantly reduces the temperature gradient between the CPU die and the exterior environment, leading to higher safety margins and higher reliability in high ambient temperature conditions. Diamond was an early adopter of conduction cooling in small form factor SBCs and today offers the widest range of these products.
PC/104

Helios PC/104 SBC

PC/104 SBC with 800MHz Vortex86 CPU and Integrated Autocalibrating Data Acquisition

Helix PC/104 SBC

PC/104 SBC with 1GHz Vortex86DX3 CPU and on-board data acquisition

Rhodeus PC/104 SBC

Low-Cost, Low-Power AMD Geode LX800 PC/104 SBC with CRT/LCD, LAN and CompactFlash

PC/104-Plus

Aries PC/104-Plus SBC

PC/104-Plus SBC with Intel E3800 CPU, On-Board Data Acquisition & PCIe MiniCard I/O Expansion

3.5 Inch
EBX

Hercules III SBC

EBX SBC with 1.6GHz Intel Atom E680T CPU, Integrated Autocalibrating Data Acquisition, and DC/DC Power Supply
3.5 Inch
Compact 4x4
EPIC

Neptune EPIC SBC

EPIC SBC with Intel E3845 or AMD Fusion G-T56N/G-T40N CPU, integrated autocalibrating data acquisition, DC/DC power supply, and configurable ETX CPU

COM Express
ETX

Pluto ETX SBC

ETX SBC with Intel E3845, AMD Fusion G-T56N or G-T40N CPU, PC/104-Plus expansion and configurable ETX CPU
| | |
| --- | --- |
| | COM-based Single Board Computers |
Diamond was one of the first companies to introduce the concept of a COM-based SBC. This 2-board solution combines an industry-standard off-the-shelf COM (computer on module) such as COM Express or ETX with a baseboard that provides the final inch of all the I/O and power needed to create a complete SBC product. The advantages of a COM-based SBC are numerous and are especially attractive to customers with long lifecycle requirements:
Off-the-shelf solution – fast time to market, reduced development cost
Scalable CPU performance
Earlier access to the newest CPU technologies than with a standard SBC
Long lifetime due to the ability to swap out an end of life COM with a next generation model
Highest feature density per unit area due to the stacked design
Single-vendor solution
Reduced purchasing and inventory

The COM-based SBC consists of 3 "layers":
The bottom layer is the efficient conduction cooling heat spreader, which also serves as the mounting mechanism for the SBC.
The middle layer is the COM, providing the complete core CPU functionality in an industry-standard form factor.
The top layer is the baseboard or "application layer". This board contains all the I/O connectors, power supplies, and other circuitry to turn the COM into a complete embedded computer.
> >
See our Single Board Computers comparison chart
| | | |
| --- | --- | --- |
| | Featured Product | |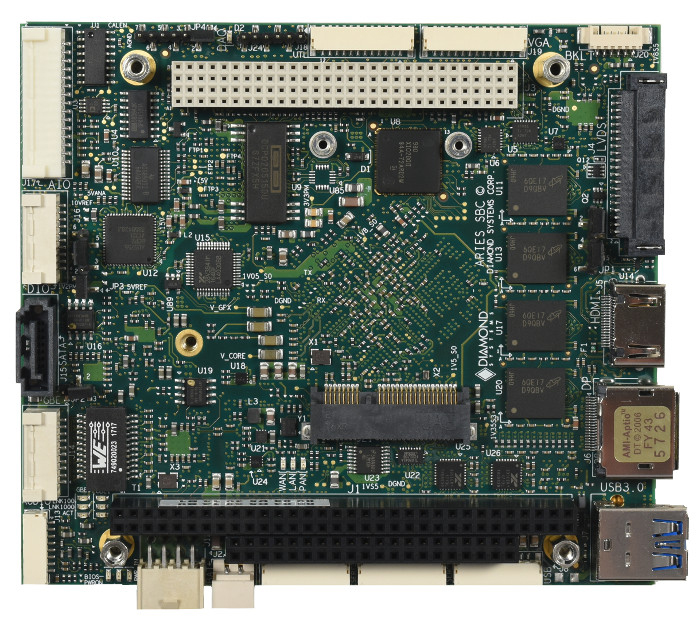 Aries PC/104-Plus SBC

- Intel quad or dual core E3800 CPU
- 2GB or 4GB soldered DDR3 SDRAM
- 2 Gigabit Ethernet port; 1 SATA port
- 4 USB ports; 4 RS-232/422/485 ports
- LVDS LCD & VGA display interfaces
- PCIe MiniCard & mSATA flashdisk
- On-board data acquistion with:
16 16-bit analog inputs
4 16-bit analog outputs
22 digital I/O
- PC/104-Plus (ISA + PCI) stackable I/O
- -40ºC to +85ºC operation
| | | |
| --- | --- | --- |
| | SBC Comparison Table | |
Click here to see our
SBC Comparison Chart
| | | |
| --- | --- | --- |
| | Featured Product | |

Pandora PC/104 Enclosure
Pandora is a compact, rugged, and versatile PC/104 enclosure designed to house and protect
Helios
,
Athena III
and
Rhodeus
SBCs with stacks of I/O of varying heights.