Products
>
Processor Modules
>
COM-based SBCs
>
Vega COM Express SBC
Vega COM Express SBC

COM Express SBC with configurable CPU and EMX I/O Expansion




| | |
| --- | --- |
| Click image to enlarge | |
| | |
| --- | --- |
| | Description |
The rugged Vega COM Express SBC includes an interchangeable COM Express COM for scalability and long product life, high feature density in a compact size, integrated high-quality data acquisition, expandable I/O, conduction cooled thermal solution for improved reliability, and rugged construction. Designed in the COM Express Basic form factor (125 x 95mm / 4.92 x 3.74 in), Vega offers performance with a 1.7GHz Intel Core i7-3517UE COM Express processor. The use of interchangeable COM Express modules helps extend product lifecycles or keep up with new market needs by making it easy to replace an obsolete CPU or increase processing performance simply by replacing the COM module. Vega is therefore an excellent choice for applications with expected lifetimes of 10 or more years.
Vega's two-board COM + baseboard construction yields the highest feature density possible in a given footprint. Vega utilizes a highly integrated baseboard with a wide range of I/O, including a full data acquisition circuit that normally calls for a separate I/O board. Standard PC-type I/O includes VGA and dual-channel LVDS display, 4 USB 2.0 ports, 4 RS-232/422/485 ports, dual Gigabit Ethernet, SATA, and HD audio. Vega SBCs also feature a 7-36V wide range high-efficiency power supply, making them compatible with most common vehicle and industrial power supply voltages.
The integrated data acquisition includes 16-bit A/D and D/A, digital I/O, and counter/timers, all supported by Diamond's free, industry-leading Universal Driver™ data acquisition programming library. An interactive graphical control panel for Windows and Linux is also provided to control all data acquisition features.
Vega supports stackable I/O expansion with EMX I/O modules as well as a dual-use PCIe MiniCard / mSATA socket for additional I/O expansion. I/O modules featuring serial ports, Ethernet, analog I/O, digital I/O, CAN, and WiFi are available from Diamond and other vendors in the PCIe MiniCard form factor, providing low-cost, compact I/O expansion without increasing the total height of the system. For rugged applications, wide temperature mSATA disk modules in either SLC or MLC technologies are available with up to 64GB capacity.
EmbeddedXpress (EMX, www.emxbus.org) is an industry standard form factor for embedded computers that offers highly efficient and rugged stackable I/O expansion. EMX incorporates the best of previous stackable I/O systems and extends them to better fit today's technologies and customer needs. The EMX bus connector is compact and low cost, helping to improve overall product cost efficiency as well as feature density compared to other stackable I/O form factors on the market today. EMX supports all of today's most popular expansion buses while reserving sufficient pins for future definition, making it both applicable to today's needs and capable of supporting tomorrow's requirements.


(click to enlarge)
Vega's built-in heat spreader efficiently removes heat from the SBC directly to the system enclosure and helps keep the interior cooler for improved reliability. The novel bottom-side mounting configuration of the heat spreader provides a convenient mounting system for the board. It also simplifies the installation of I/O expansion modules by eliminating interference or airflow problems that can occur with traditional heat sinks.
The Vega SBC was designed with rugged applications in mind. With an operating temperature of -40şC to +85şC, an integrated heat spreader thermal solution, thicker PCB, and latching I/O connectors, Vega SBCs are a perfect fit for rugged applications including industrial, medical, on-vehicle and military. Vega SBCs are also available in off-the-shelf hardened and highly configurable systems for extremely rugged mission critical applications.
Software Support
The Vega SBC supports Linux and Windows Embedded Standard 7 operating systems. Windows Embedded Standard 7 and Linux System Development Kits and Software Development Kits are available with a bootable OS image and drivers.
| | |
| --- | --- |
| top | |
| | The EMX Standard |
EmbeddedXpress (EMX) is a new generation, highly efficient embedded form factor designed to provide an efficient solution for PCI Express I/O expansion in a rugged, low-cost, small format. EMX is optimized for use with COM Express and QSeven based systems and is an ideal choice for providing I/O expansion in off the shelf and custom embedded systems using these and other COMs. EMX also works with single board computers in the EMX Basic and Compact form factors.
EMX SBCs come in two sizes: 95x95mm "Compact" and 95x125mm "Basic". All EMX I/O modules are in the Compact format. These sizes match the sizes of COM Express Compact and Basic modules, providing a perfect fit that enables the development of both COM Express / QSeven baseboards and single board computers in the same physical form factor.
The EMX expansion bus provides 4 lanes of PCI Express x1 connectivity along with USB, SATA, and LPC. This broad range of high speed and pin-efficient buses provides enhanced flexibility for designers of SBCs and I/O cards, allowing access to a wider range of peripheral chips and functionality, while conserving precious space on the PCB through the use of a compact, low-cost, stacking bus connector. The EMX bus also contains ample reserved pins, providing a path to future bus technologies to retain its longevity well into the future.
Key Highlights of the EMX Form Factor:
Compact, rugged form factor offering stackable I/O expansion
Optimized for use with COM Express and QSeven COMs
Low-cost, small I/O connector uses less PCB area and provides more room for I/O connectors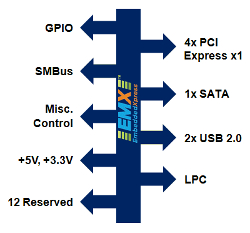 EMX Bus I/O Features
For more information and to obtain a copy of the EMX specification, please visit www.emxbus.org.
| | |
| --- | --- |
| top | |
| | Baseboard Block Diagram |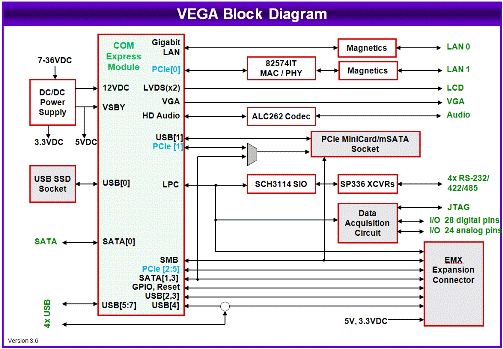 (click to enlarge)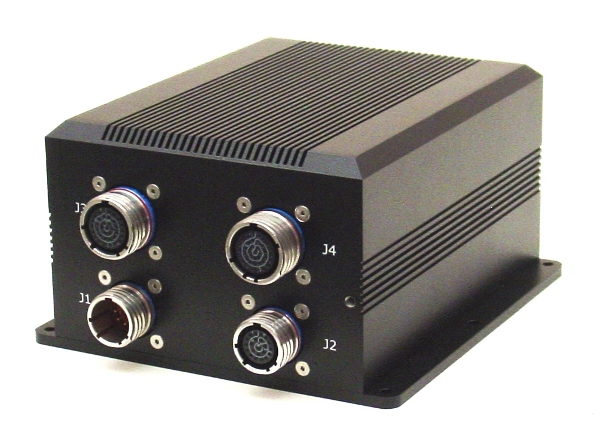 The Vega SBC is available in off-the-shelf hardened and highly configurable systems for extremely rugged mission critical applications. This versatile rugged off-the-shelf computer system can be used as a development platform for multiple application-specific configurations and can be deployed as soon as your application is ready.
The Raptor-Vega COTS-based system is designed around a rugged SBC featuring a 1.7GHz Intel Core i7-3517UE. A full suite of I/O provides the connectivity for most applications. A wide-range 7-36VDC input provides extra flexibility enabling use in vehicles or harsh environments. The system comes with the operating system pre-loaded on a flashdisk, enabling immediate operation without any development effort.
| | |
| --- | --- |
| top | |
| | CK-VEGA-01: Cable kit for Vega COM Express SBC |
The Vega cable kit (CK-VEGA-01) includes cables for most of Vega's on-board I/O. Many cables are also available individually.
CK-VEGA-01 includes the following cables:
| | | | | |
| --- | --- | --- | --- | --- |
| No. | Qty | Cable | Description | Drawing |
| 1 | 2 | 6980808 | Dual serial cable | Show |
| 2 | 1 | 6981501 | Utility cable | Show |
| 3 | 1 | 6981503 | Power input cable | Show |
| 4 | 2 | 6981504 | Data acquisition cable | Show |
| 5 | 2 | 6981315 | Gigabit Ethernet cable | Show |
| 6 | 2 | 6981317 | Dual USB cable | Show |
| 7 | 1 | 6981323 | HD Audio cable | Show |
| 8 | 1 | 6981324 | VGA cable | Show |
| | |
| --- | --- |
| top | |
| | Specifications |
Core System Functions

Processor

1.7GHz Intel Core i7-3517UE CPU

Memory

Up to 8GB SO-DIMM DDR3 SDRAM

BIOS

AMI PnP Flash BIOS

I/O Interfaces

Mass Storage

1 SATA port, supports 1 device
USB flashdisk socket supports up to 8GB

Serial

4 RS-232/422/485 ports

USB

4 USB 2.0 ports

Networking

2 Gigabit Ethernet ports
1 from Intel 82574IT controller
1 from COM Express module

Keyboard/Mouse

USB keyboard/mouse

Display

LVDS LCD flat panel interface
VGA CRT interface

Audio

ALC262 Codec HD audio with stereo line-out, line-in & microphone

Watchdog timer

Non-maskable interrupt or reset modes

Data Acquisition Features

Analog Inputs

16 single-ended or 8 differential, user selectable

A/D Resolution

16 bits

Input ranges

±10V, ±5V, ±2.5V, ±1.25V, 0-10V, 0-5V, 0-2.5V programmable

Max Sample Rate

250KHz

Protection

±35V on any analog input without damage

Nonlinearity

±3LSB, no missing codes

On-board FIFO

2048 samples, programmable threshold

A/D and D/A Calibration

Autocalibration with software support

Analog Outputs

8, 16-bit resolution

Output ranges

±5V, ±10V, 0-5V, 0-10V

Input impedance

10^13 ohms

Output current

±5mA max per channel

Settling time

7µS max to 0.012%

Relative accuracy

±1 LSB

Nonlinearity

±1 LSB, monotonic

Reset

Reset to zero-scale or mid-scale

Digital I/O lines

30 programmable direction

Input voltage

Logic 0: 0V min, 0.8V max
Logic 1: 2.0V min, 5.0V max

Input current

1µA at 3.3V, -5µA at 0V

Output voltage

Logic 0: 0.0V min, 0.33V max
Logic 1: 2.4V min, 5.0V max

Output current

Logic 0: 12mA max per line
Logic 1: -4mA max per line

Watchdog timer

Non-maskable interrupt or reset mode

Clock source

10MHz on-board clock or external signal

General purpose

8 32-bit counters/timers

Expansion Buses

EMX Stackable I/O

PCIe MiniCard

1 socket

Physical and Mechanical

Power Input

+7-36V DC/DC power supply

Power Consumption

VEGA-3517UE-4GA: 13.93W at 12V typical

Operating Temperature

-40ºC to +85ºC (-40ºF to +185ºF)

Operating Humidity

0-90% non-condensing

Form Factor

COM Express

Dimensions

4.92 x 3.74 in. (125 x 95 mm)

Weight

VEGA-3517UE-4GN: 14.4oz (408g)

MTBF

Vega baseboard with DAQ: 277,880 hours at 20ºC
Core i7-3517UE COM: 146,217 hours at 25ºC

RoHS

Compliant