Products
>
I/O Expansion Modules
>
Communications Modules
>
EMX-ESG777 Ethernet, Serial, GPIO, GPS Module
EMX-ESG777 Ethernet, Serial, GPIO, GPS Module

Dual Gigabit Ethernet, 6 Serial Port, GPIO EMX I/O Module




| | |
| --- | --- |
| | |
| Click image to enlarge | Click image to enlarge |
| | |
| --- | --- |
| | Description |
EMX-ESG777 combines all the functionality of our EMX-ESG200 and EMX-ESG614 I/O modules into one compact board packed with I/O features. This high level of functionality offers the greatest efficiency in both size and cost for small form factor embedded systems requiring extra I/O features.
EMX-ESG777 provides 2 PCI Express gigabit Ethernet ports based on the Intel 82574IT industrial temperature gigabit Ethernet controller in the efficient EMX I/O form factor. The board utilizes two PCIe lanes on the EMX I/O connector, one for each controller, offering higher throughput compared to designs using a PCIe switch that shares one lane for both ports. Status LEDs are provided on board for both ports, and a utility connector provides access to the LED signals for use on a panel display.
The EMX-ESG777 also provides 6 RS-232/422/485 ports based on the SMSC SCH3116 industrial temperature UART in the efficient EMX I/O form factor. Ports 1 - 4 support RS-232, RS-422, and RS-485 protocols, while ports 5 and 6 support RS-232 or TTL mode. In RS-232 mode, ports 1-4 offer TX, RX, RTS, and CTS signals, while ports 5 and 6 offer TX and RX only. All ports feature programmable bad rates up to 921,600 in all protocols.
EMX-ESG777 includes 14 digital I/O lines for general purpose application. Each line has individually programmable direction, and all lines offer ESD protection for increased reliability.
For applications requiring GPS functionality, EMX-ESG777 can be fitted with the Trimble Condor C2626 GPS receiver offering up to 5Hz update rate, NMEA communications protocol, and PPS timing output. An on-board backup battery maintains the GPS almanac for faster acquisition after power-up.
Wide range -40ºC to 85ºC operating temperature and fully latching I/O connectors provide appropriate ruggedness for vehicle and harsh environment applications. Ethernet drivers are included for Windows Embedded Standard 7, Windows CE 6, and Linux 2.6.
| | |
| --- | --- |
| top | |
| | Block Diagram |
| | |
| --- | --- |
| top | |
| | The New EMX Standard |
EmbeddedXpress (EMX) is a new generation, highly efficient embedded form factor designed to provide an efficient solution for PCI Express I/O expansion in a rugged, low-cost, small format. EMX is optimized for use with COM Express and QSeven based systems and is an ideal choice for providing I/O expansion in off the shelf and custom embedded systems using these and other COMs. EMX also works with single board computers in the EMX Basic and Compact form factors such as Diamond's Altair EMX single board computer.
EMX SBCs come in two sizes: 95x95mm "Compact" and 95x125mm "Basic". All EMX I/O modules are in the Compact format. These sizes match the sizes of COM Express Compact and Basic modules, providing a perfect fit that enables the development of both COM Express / QSeven baseboards and single board computers in the same physical form factor.
The EMX expansion bus provides 4 lanes of PCI Express x1 connectivity along with USB, SATA, and LPC. This broad range of high speed and pin-efficient buses provides enhanced flexibility for designers of SBCs and I/O cards, allowing access to a wider range of peripheral chips and functionality, while conserving precious space on the PCB through the use of a compact, low-cost, stacking bus connector. The EMX bus also contains ample reserved pins, providing a path to future bus technologies to retain its longevity well into the future.
Key Highlights of the EMX Form Factor:
Compact, rugged form factor offering stackable I/O expansion
Optimized for use with COM Express and QSeven COMs
Low-cost, small I/O connector uses less PCB area and provides more room for I/O connectors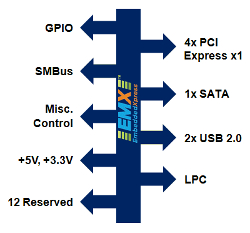 EMX Bus I/O Features
For more information and to obtain a copy of the EMX specification, please visit www.emxbus.org.
CK-EMX-ESG77 is the cable kit for EMX-ESG777. It contains two gigabit Ethernet cables, three dual serial cables, and a digital I/O cable.
| | |
| --- | --- |
| Cable | Description |
| CK-EMX-ESG777 | Cable Kit for EMX-ESG777 |
| | |
| --- | --- |
| top | |
| | Specifications |
Functions

Ethernet

2 Gigiabit Ethernet ports
based on Intel 82574IT chips

Ethernet LEDs

Status LEDs on-board

Serial

4 RS-232/422/485 ports
2 RS-232 ports (3.3V logic level optional)
All ports from SMSC SCH3116 UART

Serial Data Rates

Up to 921,600 baud in all protocols

Protocol Selection

Jumper selected protocols (can be hardwired for increased ruggedness)

GPIO

14 general purposed digital I/O lines
Programmable direction with I/O bufffers
3.3V logic level with 5V compatibility
ESD protection

GPS Receiver

Socket for optional Trimble Condor C2626 23-channel GPS receiver

Connectors

Latching I/O connectors

Drivers

Ethenert drivers for Windows Embedded Standard 7, Windows CE 6, & Linux 2.6

Bus Interface

EMX bus passthrough

Power Input

+5VDC or +3.3V

Power Consumption

tbd

Operating Temperature

-40ºC to +85ºC (-40ºF to +185ºF)

Operating Humidity

0-90% non-condensing

Form Factor

EMX Compact

Dimensions

3.75 x 3.75 in. (95 x 95 mm)

Weight

3.2oz (90.7g)

MTBF

tbd

RoHS

Compliant