FP-GPIO96 Digital I/O Module
Programmable Digital I/O FeaturePak Module with Customizable Personality
| | | |
| --- | --- | --- |
| (click to enlarge) | | |
| | |
| --- | --- |
| top | |
| | Description |
FP-GPIO96 is a general purpose I/O FeaturePak module using a high-capacity (700K gate equivalent) PCI Express FPGA for maximum density and flexibility. The base hardware configuration features 96 digital I/O lines grouped into 12 8-bit ports. All ports have I/O buffers to protect the FPGA and feature 5V logic drive levels. The ports are organized into a combination of byte-wide, nibble-wide, and bit-wide direction control for maximum flexibility and application compatibility.
The built-in FPGA personality provides multiple configuration options. All 96 I/O lines may be used in common I/O mode; Six of these ports can be reconfigured to enable an array of additional features, including 8 32-bit up/down counter/timers with programmable input source and gate, 4 24-bit PWM circuits with 0-100% duty cycle capability and interrupt/latched mode operation.
The flash-based design enables easy field upgrades using a Diamond-provided software utility (no cable or third-party software required!) as well as custom code development. Universal Driver software support (described below) is included for Linux, Windows XP, Windows Embedded CE/Standard.
| | |
| --- | --- |
| top | |
| | Block Diagram |
| | |
| --- | --- |
| top | |
| | Universal Driver Software |
Diamond's exclusive Universal Driver Software is included at no charge along with the FP-GPIO96 I/O module. It provides a high-level programming library for all of our I/O boards, as well as for the data acquisition circuitry on our SBCs and Embedded-Ready Subsystems. All data acquisition features are supported by easy-to-use function calls, resulting in a reduced learning curve and shortened application development time. The Universal Driver works with Linux and Windows XP. Application examples and projects are included for each function, each board, and each operating system, in order to provide a quick starting point for learning and development. Learn more about our Universal Driver software here.
| | |
| --- | --- |
| top | |
| | About the FeaturePak embedded I/O standard |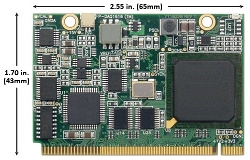 FeaturePak dimensions
(click to enlarge)

The FeaturePak™ Trade Association, originated by Diamond Systems, was launched at the Embedded World tradeshow in March, 2010. The FeaturePak Specification defines a highly-compact, low-profile, and inexpensive way to add configurable I/O functions to embedded systems. The tiny FeaturePak modules -- measuring just 1.70 x 2.55 inches (see photo at right) -- can be used for providing snap-in options or upgrades for off-the-shelf single board computers (SBCs) and computer-on-module (COM) baseboards, or as building blocks to simplify the development of fully-custom embedded electronics. Additionally, FeaturePak modules provide "zero height expansion," in that they fit within the normal component envelope of an SBC or COM baseboard and add no height to PC/104-style I/O expansion stacks. Learn more about the FeaturePak embedded I/O expansion standard here.
| | |
| --- | --- |
| top | |
| | Specifications |
Base FPGA

LatticeECP3, 700K gate equivalents

Input clock

50MHz

FPGA code storage

Flash memory, field upgradeable via JTAG

Total I/O lines on FeaturePak connector

96

Primary I/O

48 lines with 3 8-bit and 2 4-bit; configurable pull-up/down resistors

Secondary I/O

48 lines with 6 8-bit buffers; configurable pull-up/down resistors

Counter/timers

8 32-bit up/down counters (alternate mode)

Max counting frequency

(coming soon)

Counter modes

Counter, rate/square-wave generator, pulse-width modulator, programmable one-shot, hardware/software triggered strobe

Output current

Ports A, B & D: 24mA per pin max; 200mA per port max
Port C low: 24mA per pin max
Port C high: -24mA per pin max
Ports E & F: 32mA per pin max

Input current

+/-340uA max

FeaturePak

Compliant, zero height expansion

Dimensions

1.70 x 2.55 in. (43 x 65 mm); FeaturePak form-factor

Power supply

3.3VDC ±5%

Operating temperature

-40°C to +85°C standard

Weight

0.5 oz (14 g)

RoHS

Compliant