Pandora Generic Enclosure
View Datasheet
Rugged general-purpose enclosure for PC/104 Single Board Computers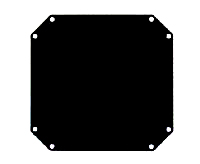 PBEC-00-K: Blank end cap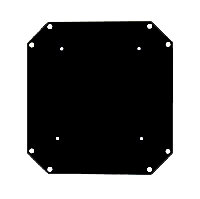 PBEC-01-K: End cap with PC/104 top/front mount holes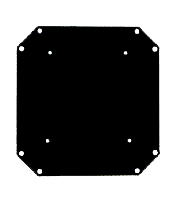 PBEC-02-K: End cap with PC/104 bottom/rear-mount holes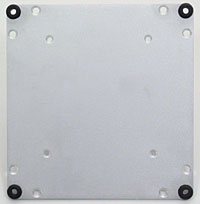 PBEC-03: Pandora End Cap, wall mounting version, with flanges and grommets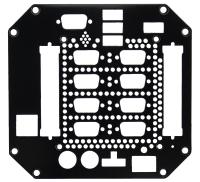 PBEC-11: End cap for Athena II Panel I/O Board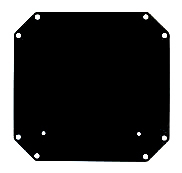 PBEC-06: Alternate end cap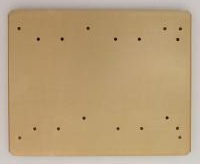 PBMT-07: Internal mounting plate for 7" enclosure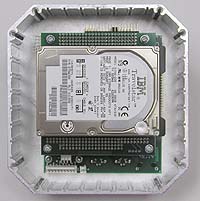 Interior view of Pandora case showing ACC-HDDMOUNT accessory board for mounting a notebook hard drive conveniently on the PC/104 stack
| | |
| --- | --- |
| | Description |
Pandora provides a fast, light, rugged, and flexible enclosure solution for PC/104 systems. In the Pandora concept, one end cap comprises a base plate on which you construct your PC/104 stack and attach cables. Once your board and cable assembly is complete, you simply insert the system into the enclosure body and bolt it in place. Then attach your cables to the second end cap and bolt it into place. Pandora also includes plenty of space all around your boards for cable runs. This results in a solid, reliable, easy-to-use enclosure system and also enables quick disassembly if needed.
Pandora' design features smooth outer walls, inegrated pre-tapped mounting screw holes, counter-sunk panel mounting holes, and flush-mount hardware to provide a clean, finished unit with simplified assembly effort and maximum interior space.
Pandora is available in black finish. It comes in multiple sizes, from a slim 1.7" that houses one or two boards, up to a roomy 10" length that accommodates multiple boards plus a hard drive or other equipment.
Standard end caps are available, either blank or with pre-drilled PC/104 mounting holes and wall mount ears so you can mount the system to a wall or bulkhead. Custom end caps can be made as well by using Diamond's PBEC-00-K blank end cap and drilling or punching holes and cutouts to meet your own needs.
Each standard Pandora case comes with one blank end cap, one end cap with PC/104 mounting holes for bottom-up assembly (2 end caps total), and stainless steel mounting screws.
Pandora provides an especially rugged and convenient packaging solution for Diamond's Helios or Athena II SBCs. The SBC mounts directly to a panel I/O board that provides industry-standard connectors for all I/O features. This panel i/o board then mounts directly to a specially-designed front plate. The resulting assembly requires no cables and can fit in our smallest enclosure, measuring only 1.7" thick. A single panel i/o board and matching end cap is available to match any Helios or Athena II PC/104 SBC with and without the data acquisition circuit and connector. Click here for more information
| | |
| --- | --- |
| A 7" base plate (model number PBMT-07) is available for mounting boards vertically in the chassis instead of axially. The base plate allows for mounting of PC/104 boards in 3 different positions, as well as EPIC boards. The base plate slides into interior grooves in the enclosure body and bolts to the two end caps for rigidity. The PBMT-07 must be used with a 7" Pandora case, PB700-K, and two end caps model number PBEC-06-K. This is available as a complete 7" enclosure kit, model number PB7-INT-01-K. | |
| | |
| --- | --- |
| Install a notebook hard driv inside the Pandora easily with our ACC-HDDMOUNT accessory board. This board mounts a 2.5 notebook hard drive right on the bottom of the PC/104 stack in the air gap created by the PC/104 bus connector pins, without requiring any additional case length. | |
This PC/104 system with UPS

PR-Z32-EA-ST Prometheus CPU with data acquisition

HESC-104 power supply with battery charger

BAT104-NiMh backup battery

...fits into this compact Pandora enclosure!

PC/104 Stack Height (inches/mm)

| | | |
| --- | --- | --- |
| # Boards | 1st Board / Non-Stackthrough(inches/mms) | 1st Board / Stackthrough (inches/mms) |
| 1 | 0.60/ 15.2 | 0.92/ 23.4 |
| 2 | 1.26/ 32.1 | 1.58/ 40.2 |
| 3 | 1.92/ 48.9 | 2.24/ 57.0 |
| 4 | 2.59/ 65.7 | 2.91/ 73.8 |
| 5 | 3.25/ 82.5 | 3.57/ 90.6 |
| 6 | 3.91/ 99.3 | 4.23/ 107.4 |
| 7 | 4.57/ 116.1 | 4.89/ 124.3 |
| 8 | 5.23/ 132.9 | 5.55/ 141.1 |
Select length < L > in part numbers below:

< L >:

170 1.7" / 43mm
300 3.0" / 76mm
500 50" / 127mm
700 7.0" / 178mm
1000 10.0" / 254mm

PB-< L >-K

Pandora enclosure, black; specify length

PB-EAP-< L >-K

Pandora enclosure for Athena II or Athena SBCs

PNL-EAP-01

Panel I/O board for Athena II or Athena SBCs

PB-HLV-< L >-K

Pandora enclosure for Helios SBCs

PNL-HLV-01

Panel I/O board for Helios SBCs

PB-AUR-170-K

Pandora 1.7" enclosure for Aurora SBCs

PNL-AUR-01

Panel I/O board for Aurora SBCs

PBEC-00-K

Blank end cap