Products
>
Services
>
End-of-Life Products
>
Corona WiFi & Ethernet Module
Corona WiFi & Ethernet Module

SUMIT-ISM Wireless and Ethernet Communications Module with SUMIT-A and PC/104 (ISA) Expandability




| | |
| --- | --- |
| | Description |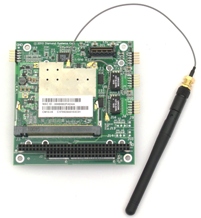 Corona SUMIT-ISM module with external antenna
(click to enlarge)

The Corona SUMIT-ISM Communications module features a WiFi card in the SUMIT-ISM Type I form factor. The product contains a WiFi LAN card connected via a mini-PCI socket, two 10/100Base-T Ethernet ports, two USB 2.0 ports if supported by the host system, an SDVO to VGA converter, and both a SUMIT-A connector and a PC/104 (ISA) connector for expansion. Click here for more information on the SUMIT industry standard.

The WiFi card is a dual channel/dual antenna mini-PCI IEEE 802.11a/b/g wireless LAN that supports up to 108Mbps transmit and receive rates. Its average power is up to 200mW with peak power up to 600mW.

The on-board dual 10/100Base-T Ethernet ports provide a high speed option for communication with remote hosts.

The SDVO to VGA converter is designed to accept the SDVO output from Diamond's Aurora single board computer and convert it to an analog VGA output.

Corona was designed with outdoor applications in mind. It is ideal for access point applications or a wide range of other embedded computing applications. Extended temperature operation of -40°C to +85°C is tested and guaranteed. The mini-PCI wireless module mounts securely to the carrier through a standoff and screw.

Corona has both SUMIT-A and PC/104 (ISA) stackthrough expandability. Therefore it can be used in embedded computing systems with legacy PC/104 stacks, as well as new SUMIT based architectures.



| | |
| --- | --- |
| top | |
| | Block Diagram |
| | |
| --- | --- |
| top | |
| | Corona Cable Kit (C-COR-KIT) |
The Corona cable kit includes cables for Corona's on-board I/O. All cables are also available individually.
| | | |
| --- | --- | --- |
| Qty | Cable | Description |
| 2 | 6981080 | Ethernet cable, 2mm 2x5 crimp to RJ-45 socket |
| 1 | 6981082 | Dual USB cable, 2mm 2x5 to Dual USB |
| 1 | 6981084 | VGA cable, 2mm 2x5 crimp to DD15F |
| | |
| --- | --- |
| top | |
| | Specifications |
Wireless LAN

Wireless mini-PCI Module

IEEE 802.11a/b/g

Number of Channels

2

Number of Antennas

Support for 1 or 2

Frequency Range

802.11a mode:
5.15~5.35GHz & 5.725~5.85GHz for US
4.9~5.35GHz for Japan
5.15~5.35GHz & 5.47~5.725GHz for ETSI
5.725~5.85~GHz for China
802.11b/g mode:
2.400~2.4835GHz for US, Canada, Japan, ETSI, and China

Channel Bandwidth

802.11a mode: 40MHz, 20MHz, 10MHz, and 5MHz
802.11b mode: 20MHz
802.11g mode: 40MHz, 20MHz, 10MHz, and 5MHz


Transmit & Receive Rates

Up to 108Mbps

Average Power

23dBm (200mW)

Peak Power

28dBm (600mW)

Operating System Support

Windows XP driver
Linux MADWiFi driver

General

Networking

(2) 10/100Base-T Ethernet ports

USB Ports

(2) USB 2.0 ports (dependent on host system)

Graphics

VGA, 1920 x 1200 maximum resolution

Expansion

SUMIT-A stackable
PC/104 (ISA) stackable

Power Supply

+5VDC ±5%
+3.3VDC ±5%

Power consumption

COR-LANWIFI-XT: 2.84W maximum
COR-LAN2-XT: 2.24W maximum

Dimensions

3.55 x 3.775 in. (90 x 96 mm)

Operating Temperature

-40°C to +85°C (-40°F to +185°F)

Weight

COR-LANWIFI-XT: 3.4oz (96g)
COR-LAN2-XT: 3.0oz (86g)

Shock

MIL-STD-202G Table 213-1 J
Half-Sine Wave Shock
30 G, 11ms: 3 time shocks at both directions per axis: Vertical / Transverse / Longitudinal

Vibration

MIL-STD-202G Method 204, Modified Condition I A
Random Vibration
Axes: Vertical / Transverse / Longitudinal
20-2000Hz: 20-100Hz at 6dB/octave, 100-1000Hz at 0.04G^2/Hz, 1000-2000Hz at -6dB/octave
Sine Sweep Vibration
Axes: Vertical / Transverse / Longitudinal
10-2000Hz: 10-57Hz at 0.6", 57-2000Hz at 10G, sweep rate 20 minutes per cycle

RoHS

Compliant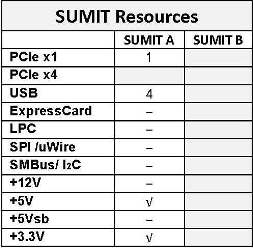 | | |
| --- | --- |
| top | |
| | Get an online quote |
| | | |
| --- | --- | --- |
| | Corona WiFi & Ethernet Module | |

Corona SUMIT Communications Module with WiFi Wireless Module and dual Ethernet ports

Corona SUMIT Communications Module with dual Ethernet ports only (no WiFi)

External SMA wireless antenna