SUMIT/FP Adapter Module
Adds FeaturePak I/O module sockets to SUMIT-ISM stacks

SUMIT/FP Adapter
(click to enlarge)


SUMIT/FP Adapter with
FP-DAQ1616 FeaturePak
(click to enlarge)
| | |
| --- | --- |
| top | |
| | Description |
The SUMIT/FP Adapter board allows the use of FeaturePak I/O expansion modules in systems that provide SUMIT-ISM expansion stack locations.
The FeaturePak socket on the SUMIT/FP Adapter consumes a single PCI Express x1 lane from the SUMIT-A bus connector on the SUMIT-ISM module. The adapter provides a pair of 50-pin I/O header connectors for convenient access to all FeaturePak I/O. In addition, it includes pass-through connectors for the SUMIT-ISM stack's SUMIT-B bus and PC/104 (ISA) bus. An extended operation temperature range of -40o C to +85o C is supported.
| | |
| --- | --- |
| top | |
| | SUMIT/FP Adapter Block Diagram |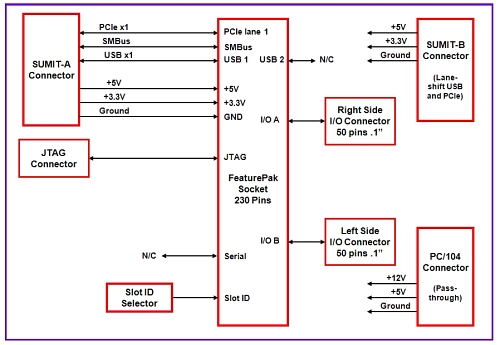 (click to enlarge)
| | |
| --- | --- |
| top | |
| | About the FeaturePak embedded I/O standard |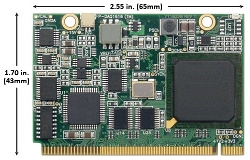 FeaturePak dimensions
(click to enlarge)

The FeaturePak™ Initiative, originated by Diamond Systems, was launched at the Embedded World tradeshow in March, 2010. The FeaturePak Specification defines a highly-compact, low-profile, and inexpensive way to add configurable I/O functions to embedded systems. The tiny FeaturePak modules -- measuring just 1.70 x 2.55 inches (see photo at right) -- can be used for providing snap-in options or upgrades for off-the-shelf single board computers (SBCs) and computer-on-module (COM) baseboards, or as building blocks to simplify the development of fully-custom embedded electronics. Additionally, FeaturePak modules provide "zero height expansion," in that they fit within the normal component envelope of an SBC or COM baseboard and add no height to PC/104-style I/O expansion stacks. Learn more about the FeaturePak embedded I/O expansion standard here.
| | |
| --- | --- |
| top | |
| | Specifications |
| | |
| --- | --- |
| Form-factor | Conforms to the SFF-SIG's SUMIT-ISM Type 1 specification |
| SUMIT-A bus functions supported | 1 PCIe x1 lane from SUMIT-A connector |
| | 1 USB channel |
| | SMBus |
| | Provides lane shifting of PCIe and USB |
| | +5V, +3.3V, Ground |
| SUMIT-B bus functions supported | SUMIT-B passthrough with PCIe and USB lane shifting |
| | +5V, +3.3V, Ground |
| FeaturePak host interface functions supported | 1 PCIe lane |
| | 1 USB channel |
| | SMBus |
| | +5V, +3.3V, Ground |
| FeaturePak user I/O connectors | 2 50-pin dual-row headers (0.1-inch pin/pin centers) |
| PC/104 functions supported | PC/104 passthrough |
| Operating temperature | -40o to +85o C |
| Power consumption | Depends on FeaturePak module requirements |