Products
>
Processor Modules
>
Single Board Computers
>
Athena III PC/104 SBC
Athena III PC/104 SBC

PC/104 SBC with 1.6GHz or 1GHz Intel Atom E-Series CPU and Integrated Autocalibrating Data Acquisition




Features

Benefits

Low-power Intel Atom E-Series processor

High computing power with reduced power consumption
Reduced heat dissipation / fanless operation

Integrated LCD, CRT, Ethernet, and system I/O

Small size
Light weight

Integrated data acquisition

Single-board solution for increased reliability
Guaranteed compatibility

Ruggedization including shock and vibration

Customizable for demanding applications
Increased reliability
| | |
| --- | --- |
| | Description |
Athena III combines a full-featured wide temperature SBC with a professional quality data acquisition circuit, all on a compact board with PC/104 I/O expansion. This 2-in-1 design reduces the size and weight of your embedded system, while also helping to simplify manufacturing logistics such as purchasing, warehousing, and assembly. As a third generation product, Athena III demonstrates Diamond's support for long-lifecycle applications. It offers the latest processor and I/O technologies for new applications, while remaining backwards compatible with prior models to extend existing product lifetimes.
Athena III offers some of the highest feature density available in a compact SBC with rugged, wide-temperature, shock and vibration qualified operation. Its combination of size, weight, performance, and power consumption is an ideal fit for applications that require solid performance and a comprehensive range of I/O, without the burden of high cost or power consumption.
The Athena III SBC provides an ideal solution for applications requiring ruggedness.
Its many rugged features include:
Soldered memory for increased immunity to shock and vibration
-40ºC to +80ºC operating temperature fully tested
MIL-STD-202-G shock and vibration qualification (test report available)
Thicker PCB (.093" / 2.4mm) increases rigidity and enhances long-term reliability in high vibration environments
2-in-1 SBC + data acquisition reduces size and weight and eliminates bus connectors and spacers for a more rugged solution
Athena III includes a complete set of standard I/O features:
4 serial ports with RS-232/422/485 protocol support, configurable via BIOS
(2 ports have 128-byte FIFOs and 460.8Kbps max data rate)
4 USB 2.0 ports
Additional USB port for bolt-on solid state flash up to 8GB
SATA port for external mass storage
Parallel port for legacy applications
PS/2 keyboard / mouse ports
1 Gigabit Ethernet port with 10/100/1000Mbps compatibility
VGA and LVDS LCD output with dual independent display capability
24 digital I/O lines
| | |
| --- | --- |
| top | |
| | System Block Diagram |
| | |
| --- | --- |
| top | |
| | Integrated Data Acquisition |
Athena III includes a complete analog and digital data acquisition circuit integrated onto the board. The analog input circuit includes 16 single-ended / 8 differential channels with 16-bit resolution and programmable gain. The extremely high input impedance ensures accurate measurements, while the fault-protected input multiplexors provide protection from overvoltage conditions as well as live inputs during a power-off state. A 2048-sample FIFO with programmable threshold supports smooth interrupt-based sampling at any sample rate up to 200KHz.
The circuit also features 4 12-bit analog voltage outputs with programmable output ranges, 24 digital I/O lines with programmable direction, and 2 counter/timers which can be used for A/D timing, timer-driven interrupts, or general counting functions.
All data acquisition features are supported by our free, best-in-class Universal Driver 7.0 programming software which simplifies application development.
| | |
| --- | --- |
| top | |
| | Athena III Development Kit |
Diamond Systems offers the Athena III SBC in a development kit including a full set of accessories plus your choice of Windows 7 or Linux operating system, ready to run on an 8GB solid state flashdisk. Simply plug in the flashdisk, attach the included cables, add your keyboard, mouse, and display, and you're ready to boot into a fully functional OS. Configuration files and instructions are provided to rebuild the OS with your application. The Linux kit includes all the tools needed to rebuild the OS. The Windows 7 kit includes a runtime license. Developer tools are required to rebuild the Windows 7 OS.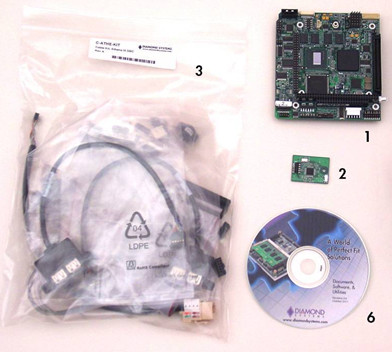 | | | |
| --- | --- | --- |
| Item | Part Number | Description |
| 1 | ATHE1600A-1G | Athena III SBC, 1.6GHz CPU, 1GB DRAM, DAQ |
| 2 | 8890653 | 8GB USB Flashdisk Module with Linux pre-loaded |
| 3 | C-ATHE-KIT | Athena III Cable Kit (see below) |
| 5 | 7460651 | Athena III Quick Start Guide (not shown) |
| 6 | 6710010 | Diamond Systems Software and Documentation CD |
| 7 | DOC-PKG | Diamond Systems Document Package (not shown) |
| 8 | MTG104 | PC/104 Mounting Hardware Kit (not shown) |
Linux and Windows Embedded Standard 7 Software Development Kits are also available for Athena III. The Athena III Linux Kit (SDK-ATHE-A-LNX) contains an 8GB flashdisk with a bootable linux image pre-loaded, a software CD with the linux tool chain and a backup image, and documentation. The Athena III Windows Embedded Standard 7 Kit (SDK-ATHE-A-WE7) contains an 8GB flashdisk with a bootable Windows Embedded Standard 7 image pre-loaded, a software CD with a backup image, and documentation.
| | |
| --- | --- |
| top | |
| | Athena III Cable Kit (C-ATHE-KIT) |
A cable kit is available that includes cables for almost all I/O features of Athena III. LCD cables are available for purchase separately and may require customization depending on your display. Many cables are also available individually for applications that need only a few.
| | | | |
| --- | --- | --- | --- |
| No. | Qty | Cable | Description |
| 1 | 1 | 6981506 | Power input cable |
| 2 | 1 | 6981011 | External battery cable |
| 3 | 2 | 6981012 | Dual USB cable, ports 0 & 1 |
| 4 | 1 | 6981030 | VGA cable |
| 5 | 1 | 6981031 | Audio cable |
| 6 | 1 | 6981080 | Gigabit Ethernet cable |
| 7 | 1 | C-50-18 | 50-conductor .1" pitch 18" ribbon cable, Data acquisition Cable |
| 8 | 1 | C-PRZ-01 | Breakout Cable, 15" length; serial, parallel, PS/2, utilities |
| | |
| --- | --- |
| top | |
| | Mass Storage |
Athena III offers two methods for mass storage. A SATA connector enables the use of popular solid state drives, which can be mounted directly on the PC/104 stack using Diamond's ACC-HDDMOUNT disk mounting accessory board. In addition the board supports solid state wide-temperature flashdisks based on rugged SLC technology in up to 8GB capacity. These flashdisks bolt directly onto the Athena III SBC and communicate over a dedicated USB 2.0 port. Click here to learn more about our USB flashdisks.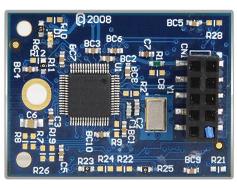 | | |
| --- | --- |
| top | |
| | Pandora Enclosure System |

Diamond's Pandora enclosure system is an excellent choice for packaging the Athena III SBC into a complete, compact, ready to run PC for industrial control, gateway, or general application use. It includes a panel I/O board which provides standard commercial I/O connectors for most of the I/O features (LCD not supported). The panel I/O board plugs directly on top of the Athena III SBC, eliminating cables and creating a rugged assembly. The entire board set then mounts directly and easily to the front panel.
Various case lengths are available to accommodate additional PC/104 I/O boards or custom electronics. The panel I/O board even includes extra I/O connectors to allow you to bring additional I/O out of the box without having to do any custom design. An optional DIN rail bracket helps simplify installation in many industrial applications.
Pandora cases and panel I/O boards can also be customized for higher volume applications. Click here to learn more about the Pandora enclosure for Athena III.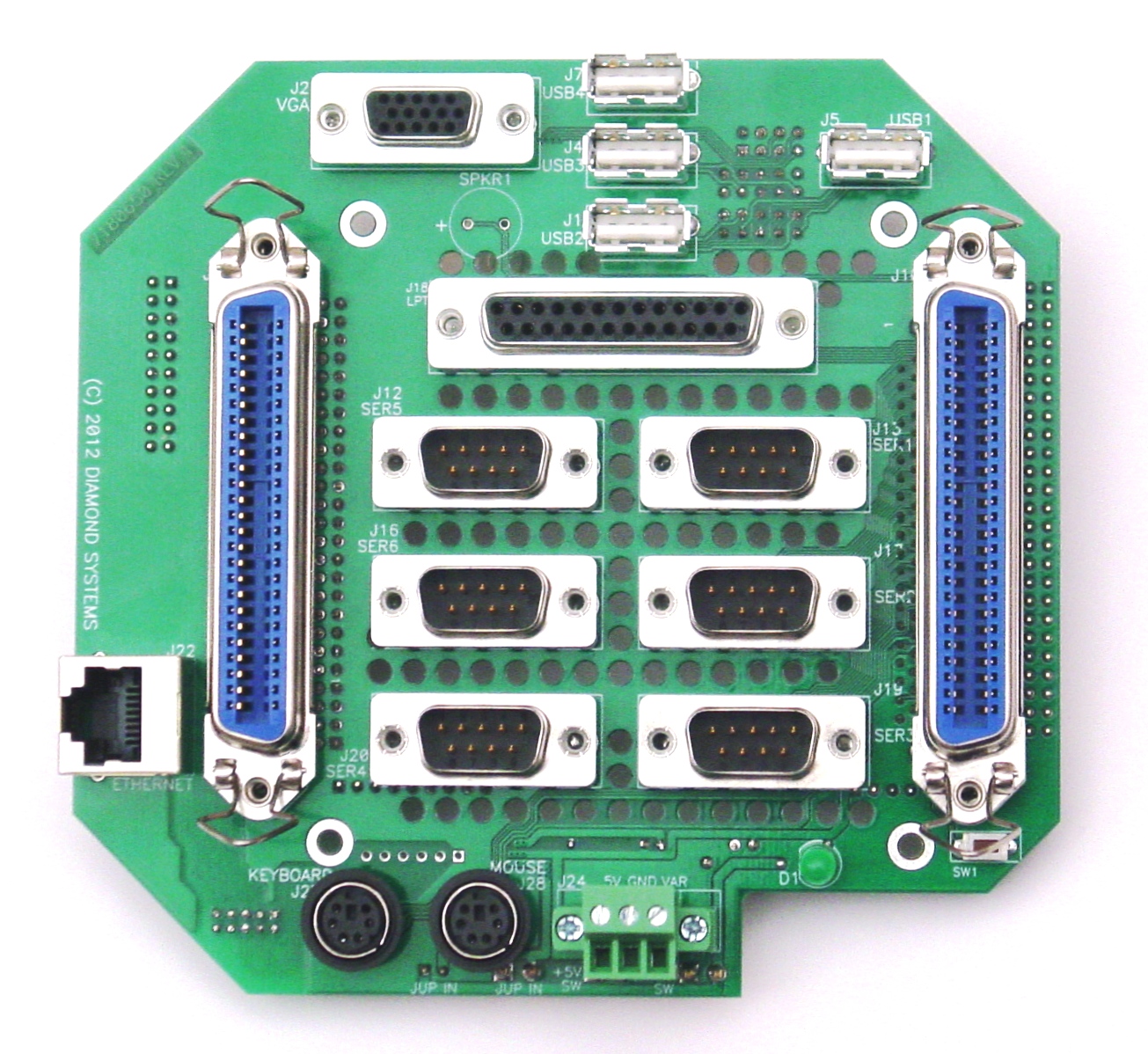 Athena III Panel I/O Board
| | |
| --- | --- |
| top | |
| | Customization & Ruggedization |
Athena III can be customized in a variety of ways to optimize its fit for your application. Visit our customization page to learn about custom BIOS settings, jumper settings, connectors, and more.
Athena III can also be ruggedized to increase its reliability and fitness for vehicle and military applications. Features include conformal coating, replacement of jumpers with soldered 0-ohm resistors, component staking and underfill, burn-in testing, and more. Its predecessor Athena II has been successfully used in multiple thousands in a wide range of critical military, railway, networking, and other applications worldwide. Athena III carries on that reputation and offers you a reliable platform for creating a long-term, rugged embedded computing system. Visit our ruggedization page to learn more.
| | |
| --- | --- |
| top | |
| | Operation System Compatibility |
Athena III supports Linux, Windows Embedded Standard 7, Windows Embedded XP, and DOS.
| | |
| --- | --- |
| Operating System | Athena III |
| Windows Embedded Standard 7 | Yes |
| Windows XP | Yes |
| Linux | 2.6.23 |
| DOS | 6.22 |
| | |
| --- | --- |
| top | |
| | Specifications |
CPU and System

Processor

Intel Atom E640T or E680T

Speed

1.0GHz or 1.6GHz

Cooling

Heat sink, fan-less

Display:

Type
Resolution
Memory
LCD interface

VGA CRT and LVDS LCD
VGA up to 1600x1200; LVDS up to 1280x768
8/16/32MB shared with system memory
24-bit dual-channel LVDS

Memory

1GB soldered on board (2GB special order)

Mass storage:

USB
Flashdisk

1 SATA pin header
Solid state USB module, up to 8GB, mounts on board

Real-time clock

On-board RTC with lithium backup battery

Ethernet

10/100/1000Mbps

Serial ports:

Ports 1/2
Ports 3/4
4 RS-232/422/485
Up to 115.2kbps, 16-byte FIFO, 16C450 compatible
Up to 460.8kbps, 128-byte FIFO, 16C2850 UART

USB ports

4 USB 2.0

Keyboard & Mouse

PS/2

Data Acquisition

Analog inputs

16 single-ended / 8 differential

A/D resolution/speed

16 bits, 200KHz maximum

Input ranges

+/-10V, +/-5V, +/-2.5V, +/-1.25V, 0-10V, 0-5V, 0-2.5V

Analog outputs

4, 12-bit resolution

Output ranges

+/-10V, +/-5V, 0-10V, 0-5V

Input impedance

10^13 ohms

Digital I/O

Digital I/O lines

24 programmable lines

Counter/timers

1 24-bit and 1 16-bit
A/D sample rate control, counting/timing, programmable interrupts

General

Operating temperature

-40ºC to +80ºC (-40ºF to +176ºF)

Power supply

+5VDC +/-5% @ 2.0A

Power consumption

9.4W (ATHE1000A-1G)

Dimensions

4.175"W x 4.475"H

Weight

8.8oz / 249g with heat sink

Shock

IEC68-2-27 compatible

Vibration

MIL-STD-810E 514.4 compatbile

RoHS

Compliant
| | |
| --- | --- |
| top | |
| | Get an online quote |
| | | |
| --- | --- | --- |
| | Athena III PC/104 SBC | |

Athena III SBC, 1GHz Atom E640T CPU, 1GB DRAM, data acquisition

Athena III SBC, 1GHz Atom E640T CPU, 1GB DRAM, DIO only

Athena III SBC, 1.6GHz Atom E680T CPU, 1GB DRAM, data acquisition

Athena III SBC, 1.6GHz Atom E680T CPU, 1GB DRAM, DIO only

Athena III SBC, 1.6GHz Atom E680T CPU, 2GB DRAM, data acquisition

Athena III Development Kit: ATHE1600A-1G SBC, Cable Kit, SDK-ATHE-A-LNX

Athena III Development Kit: ATHE1600A-1G SBC, Cable Kit, SDK-ATHE-A-WE7

Athena III Linux Software Development Kit with 8GB USB flashdisk

Athena III Windows Embedded Standard 7 Software Development Kit with 8GB USB flashdisk
| | | |
| --- | --- | --- |
| | Cables and accessories | |

1GB USB Solid State Flashdisk, extended temperature

2GB USB Solid State Flashdisk, extended temperature

4GB USB Solid State Flashdisk, extended temperature

8GB USB Solid State Flashdisk, extended temperature

Cable, USB pin header to USB Type A connector