GEMINI is a COM Express Compact type 6 carrier board and SBC with PCI/104-Express and minicard I/O expansion. Feature-rich GEMINI offers the highest performance in a compact 4.0 x 4.0" / 102 x 102mm size, with its combination of COM Express CPU module and full support for PCIe/104 type 1 connectivity (PCI-104 up to 4 modules, PCIe-104 x1 up to 4 modules, and PCIe/104 x16 if supported by the installed COM). Gemini is designed to support any COM Express Compact (95x95mm) type 6 module, from Apollo Lake to Core i7 to Xeon and Ryzen.
Gemini is available as a complete SBC featuring the 11th Generation Intel Core i7 1185G7E / 1185GRE "Tiger Lake" processors with up to 64GB RAM and -40 to +85°C operation.
GEMINI as a carrier board provides flexibility in choosing your preferred COM from among dozens of manufacturers around the world. The Gemini carrier offers early access to the latest generation of x86 processors as well as longer product lifecycles by virtue of processor independence.
The COM Express module mounts on the bottom side of the board, with a heat spreader below it serving as a mounting platform and thermal solution. The PCI/104-Express, minicard, and M.2 expansion sockets are on the top side.
The 4.0x4.0 inch (102x102mm) board size maximizes PCB coastline for I/O connectors in the smallest feasible size for the feature set. The combination of latching I/O connectors and a thicker PCB offers superior resistance to shock and vibration.
Gemini offers several options for mass storage. An M.2 2242 socket supports SSD up to 512GB using SLC, MLC, and TLC technology. A SATA connector can be used to connect to an external SSD.
Windows 10 64-bit and Ubuntu Linux 64-bit OS support are available.
| | |
| --- | --- |
| | I/O Expansion |
Gemini offers a wide range of I/O expansion options:
A PCIe/104 Type 1 socket supports OneBank PCIe x1 I/O modules as well as full PCIe x16 high performance graphics and expansion modules (with Xeon module installed)
A PCI-104 socket supports up to 4 PCI-104 I/O modules
A full-size minicard socket supports PCIe and USB minicards
An M.2 socket supports SATA flashdisk up to 512GB SLC, MLC, and TLC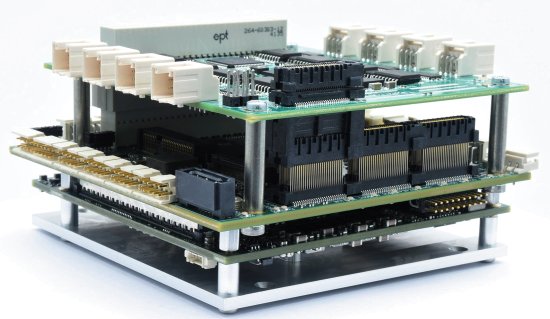 Gemini with PCIe/104 octal serial port module installed; 22mm board stacking height allows sufficient room for installed minicard + cabling
| | |
| --- | --- |
| | Cable kit |
CK-GEM-01 includes the following cables:
| | | | | |
| --- | --- | --- | --- | --- |
| No. | Qty | Cable | Description | Drawing |
| 1 | 1 | 6980512 | Power input cable, discrete wires | Show |
| 2 | 1 | 6980524 | External battery cable, discrete wires | Show |
| 3 | 2 | 6980601 | Dual serial port cable, 2x DB9 male | Show |
| 4 | 2 | 6980602 | Dual USB 2.0 cable, 2x USB 2.0 type A | Show |
| 5 | 2 | 6980603 | Dual USB 3.0 type A, latching | Show |
| 6 | 2 | 6980604 | Ethernet cable, RJ-45 socket | Show |
| 7 | 2 | 6980605 | HDMI Cable | Show |
| 8 | 1 | 6980608 | Audio cable, 3x 3.5mm jacks | Show |
| 9 | 1 | 6980609 | FCI latching 2x5 2mm to IC 2x5 2mm, 12" | Show |
| 10 | 1 | 6989101 | SATA Cable, 7-Pin Data, Straight to Right Angle, 500mm | Show |
| 11 | 1 | C-20MM-18 | 2x10 2mm IDC ribbon, 18" | - |
| | |
| --- | --- |
| | Specifications |
SPECIFICATIONS

Processor

Intel® Core™ i7 11th Generation Processor 1185G7E "Tiger Lake"

Chipset

Integrated onto processor package

Memory

32-64GB DDR4 SODIMM

Graphics

3 independent displays:

 

2x HDMI, max resolution 4096 x 2304 @ 60Hz, 24bpp

 

1x LVDS, max resolution 1920 x 1200 @ 60Hz, 24bpp

Ethernet

2 Gigabit ports: 1 10/100/1000Mbps from COM module and 1 10/100/1000Mbps via I210 Ethernet controller on carrier

USB

4x USB 2.0 and 2x USB 3.0, optional USB support via PCIe Minicard

Serial

4x multiprotocol RS-232/422/485 through SP336

Audio

HDA audio to analog audio converter

Digital I/O

8 programmable direction digital I/O, 3.3V logic compatible

Mass storage

Standard SATA, m.2 2242 M-key socket

Security

TPM module Infineon SLB 9670XQ2.0 on carrier (installed COM may also have TPM)

Expansion

PC/104-Express (22mm stacking height): 4 PCIe x1 ports, 1x PCIe x16 / x8 / x4 (depending on installed COM, 1185G7E supports PCIe x4), 1x USB2.0, and 4-slot PCI support
1 PCIe full-size minicard with PCIe x1 and USB 2.0 connectivity

Form factor

101.6mm x 101.6 mm / 4.000" x 4.000"

Weight

281g / 9.9oz (complete assembly with WL COM and heat spreader)

Cooling

Conduction cooling heat spreader on bottom

Input voltage

16V-34VDC

Power consumption

Carrier board alone: 2.4W
Carrier board + TL COM + 32GB RAM: TBD
Vin = 28VDC

Operating Temp

-40° to +85°C (carrier board with TL 1185G7E COM; final system capability depends on the installed COM)
Ordering
Information
| | |
| --- | --- |
| | Models and Accessories |
| | | |
| --- | --- | --- |
| | GEMINI | |

Gemini carrier board, 8 x1 + 1 x16 PCIe configuration, 22mm PCI/104-Express

Gemini carrier board, 5 x1 + 1:4 PCIe switch + 1 x16 PCIe configuration, 22mm PCI/104-Express

Gemini SBC, 11th Gen Core i7 1185G7E, 32GB RAM, Extended Temp

Gemini SBC, 11th Gen Core i7 1185G7E, 64GB, Extended Temp

Gemini SBC, 11th Gen Core i7 1185GRE, 32GB RAM Soldered, -40/+85C

Development Kit, Gemini SBC, 1185G7E CPU, Linux 64-Bit OS

Development Kit, Gemini SBC, 1185G7E CPU, Linux 64-Bit OS

Software Dev Kit, Gemini SBC, 1185G7E CPU, Windows 10 64-Bit OS

Software Dev Kit, Gemini SBC, 1185G7E CPU, Linux 64-Bit OS

Software Dev Kit, Gemini SBC, 1185GRE Processor, Windows 10 64-Bit OS

Software Dev Kit, Gemini SBC, 1185GRE Processor, Linux 64-Bit OS
| | | |
| --- | --- | --- |
| | Cables and accessories | |

Cable Power, 2x4 0.1" Latching to Discrete Wires, 15"L

Cable, External Battery, Molex Spox 2 Pos to Tinned Leads, 12ā€¯L

Cable, Dual Serial Port, FCI 98414 to 2x DB9M, 12"L

Cable, Dual USB 2.0, FCI 98414 to Dual Type A Panel Mount Receptacle, 12ā€¯L

Cable, USB 3.0, Latching 2x5 2mm to Type A Socket Panel Mount, 12"L

Cable, Ethernet, Latching 2x5 2mm to RJ-45 Socket Panel Moun, 12"L

Cable, HDMI, Latching 2x10 2mm to HDMI Panel Moun 12"L

Cable, Audio, Latching 2x10 2mm to 3x 3.5mm Stereo Jacks, 12"L

Cable, FCI Latching 2x5 2mm to IDC 2x5 2mm, 12"L

SATA Cable, 7-Pin Data, Straight to Right Angle, 500mm