THINK DIAMOND for
Long-Life COM-Based SBCs
A COM-based SBC combines the flexibility of a standard computer-on-module (COM) with a baseboard offering additional I/O, expansion sockets, power supplies, and I/O connectors. The result is a highly flexible, highly expandable, feature-dense product that can be adapted to the widest range of applications and enjoys the longest possible lifecycle.

Benefits of COM-Based SBCs
Scalable CPU performance - you can swap out one COM for another in the exact same form factor but with a different CPU. This allows your system to be easily upgraded when software demands increase.
Extended product lifetime - if the COM you're using becomes obsolete, another one can be used in its place easily, with no mechanical changes required to the system. This enables COM-based embedded systems to easily last 20 years, since most of the baseboard electronics usually have much longer lifecycles than the processor and related peripherals contained on the COM.
Higher feature density / smaller overall size - the stacked 2-board design means you get more features per unit area in your system. Many of our COM-based SBCs are able to include integrated data acquisition circuitry and additional I/O for this reason, earning them the additional distinction of "2-in-1" SBCs.
Earlier access to the latest CPU technology - Most new processors are introduced in COMs long before they are available in true single-board computer form. With a COM-based SBC you can upgrade your system with the latest CPU sooner.
Consistent platform across product lines - the CPU scalability and interchangeability mean that a single physical form factor can be used in multiple applications requiring different CPU capability, with no mechanical redesign required.
Extended Product Lifetime
The number one challenge faced by most embedded computer users is the eventual obsolescence of the processor or computer board in their application. Dealing with obsolescence is time consuming and expensive, and it carries a high element of risk. Eliminating or alleviating obsolescence concerns is therefore a highly desirable goal.
A new product based on a traditional SBC typically is using a processor that is already at least 2 years old or older by the time it reaches the market. Because of relatively short processor lifecycles, the customer will therefore be facing undesirable and expensive obsolescence mitigation efforts much sooner than desired, such as stockpiling of key components or large last-time-buy orders of complete boards.

A "single-board computer" designed around a COM however can usually swap out an older COM for a newer one with no changes to the hardware and only nominal updates to the software (to use newer I/O device drivers). In this way the computer's lifecycle, and the lifecycle of the product in which it is being used, are extended for the life of the new COM. As a bonus, newer COMs usually offer higher performance at similar price and power consumption levels as previous ones.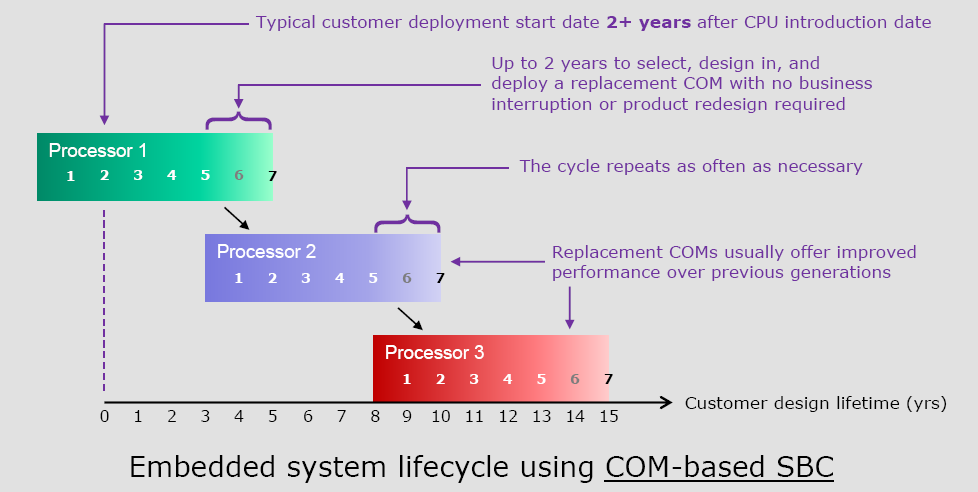 Custom COM Carrier Boards
A COM-based SBC separates the high-development-cost, high-technical-complexity, higher likelihood of obsolescence, and overall higher-risk CPU circuit from the generally easier-to-design and longer-life I/O, expansion, and power circuitry. This makes a COM-based SBC desirable from the standpoint of design effort, manufacturability, and sustainability, while also significantly alleviating risk to a program with long life expectancy.

This division of complexity and risk also makes it appealing to choose a custom COM-based solution in many cases. A custom COM carrier board can be designed in much less time and for much lower cost than a fully custom SBC. Diamond Systems has decades of experience in custom COM carrier and custom SBC design & manufacturing and can help you determine if this is a viable approach for your needs.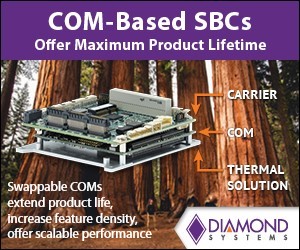 Diamond's
COM-based SBCs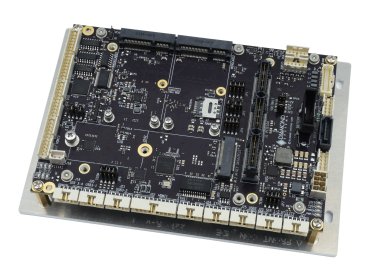 11th Generation Core i7 1185GRE / 1185G7E 2.8GHz
Passmark ~8,200 - 10,400
Up to 64GB RAM
2 PCIe minicard + 1 M.2 PCIe/SATA sockets
PCIe/104 socket with 4 x1 and 1 x4 PCIe links
Optional autocalibrating data acquisition
Rugged design with latching connectors
-40/+85C operation
3.5 inch form factor: 5.75 x 4.00" / 146 x 102mm
Available as a rugged system in Geode™ enclosure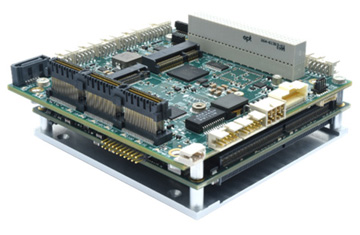 11th Generation Core i7 1185GRE / 1185G7E 2.8GHz
Passmark ~8,200 - 10,400
1 PCIe minicard + 1 M.2 PCIe/SATA sockets
PCI104-Express socket with 4 x1 and 1 x4 PCIe links and 4 PCI slots
Rugged design with latching connectors
Compact size: 4.00 x 4.00" / 102 x 102mm
-40/+85C operation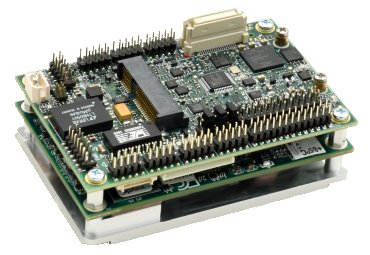 Ultra-compact size for airborne and portable applications: 3.3 x 2.2" / 84 x 55mm
"Apollo Lake" x5-E3940 / x7-E3950 quad core 1.6GHz processors
Passmark ~2000-2100
64/128GB built-in eMMC storage
Integrated data acquisition with 16 16-bit A/D, 4 16-bit D/A, and 27 GPIO
Minicard socket and expansion socket for I/O daughterboard
-40/+85C operation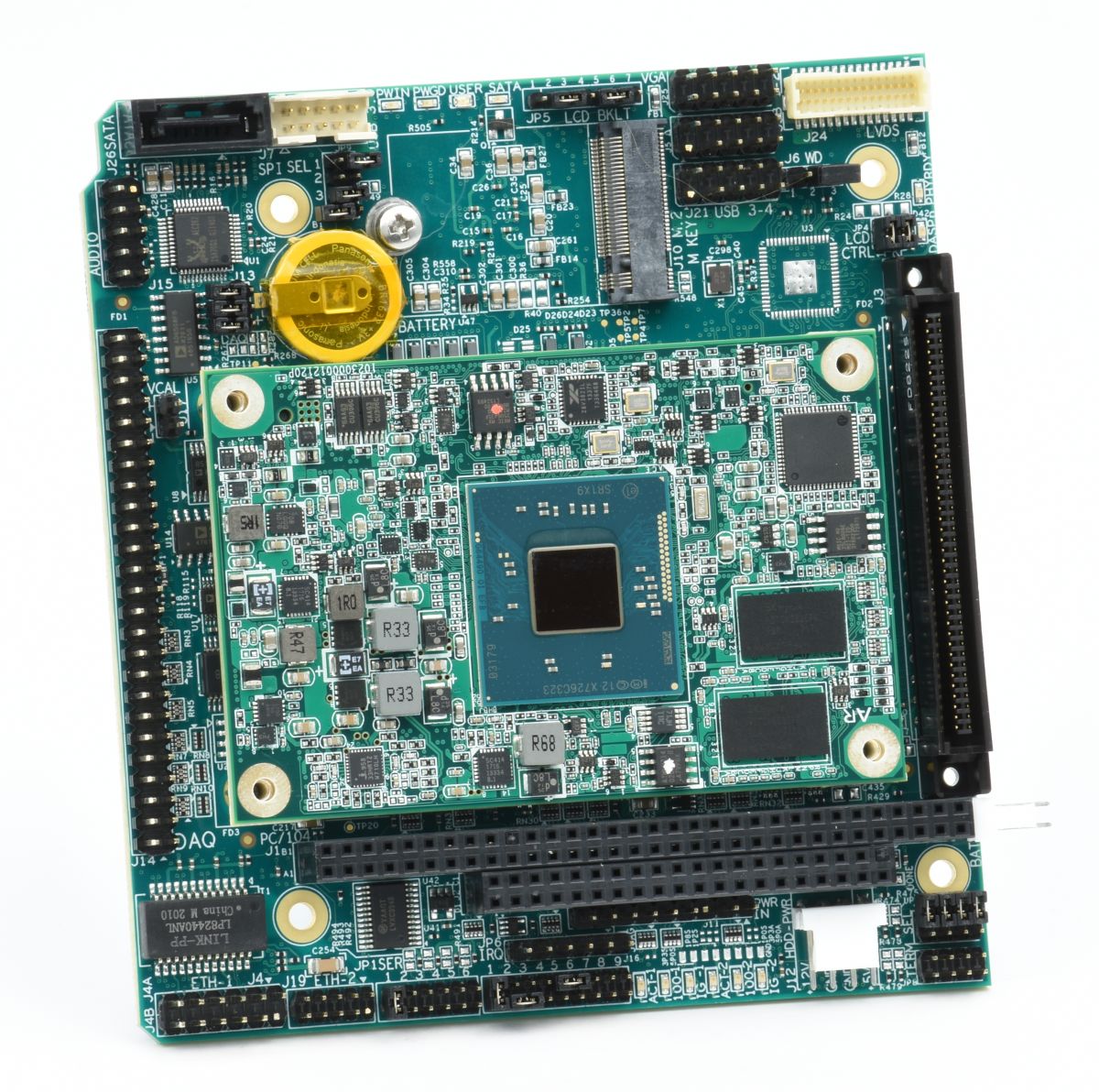 Long life support for PC104-based systems
"Apollo Lake" x5-E3940 / x7-E3950 quad core 1.6GHz processors
Passmark ~2000-2100
4GB / 8GB RAM soldered on board
64/128GB built-in eMMC storage
Integrated data acquisition with 16 16-bit A/D, 4 12-bit D/A, and 24 GPIO
PC104 socket for I/O expansion
-40/+85C operation