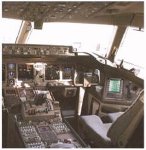 Application Overview:
This on-board Avionics Information System (Electric Flight Bag) is a powerful PC-based platform with the flexibility to simultaneously support multiple cockpit applications. The unit provides a single source for all the supplementary and situation information that a crew needs for safe and efficient flight, such as checklists and manuals, maps and charts, take-off and landing speeds calculations, and much more. The system makes use of an air-ground link which enables it to efficiently transfer digital information between the aircraft and the ground.
Customer's Requirements:
Vendor had to provision a highly reliable, rugged, small formfactor, PC based data acquisition platform with considerable computing power and a PCI interface for expandability as starters. Unit had to draw power directly from an extremely noisy 24VDC power source and also provide a human interface via a flat panel display.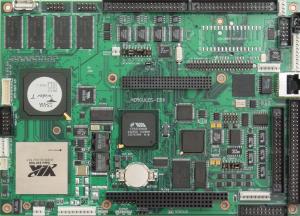 Diamond's Baseline of Hardware:
The Ruggedized family of products provided a great starting point in provisioning a perfect fit solution for this customer. The baseline of hardware was made up of Diamond Systems Hercules-EBX CPU (HRC750-5A256) with onboard data acquisition functions and power sourced by a Jupiter-MM-512 power supply (JMM-512).
Provisioning Services:
• Standard Product Variant • Product Ruggedization Services After a careful evaluation it became quite apparent customization would be required for the Hercules-EBX CPU to ensure proper operation in this environment for. One major factor was the harmonics created by the crosstalk interference between the complex avionics communications signal cards and the onboard CPU power supply. In order to isolate this issue, Diamond removed the power supply from the Hercules-EBX board. A JMM-512 power module was added to the stack and became the primary CPU power source. Now although the JMM-512 has an input range of 7-30VDC (sufficient for the 24VDC Aircraft power source), the customer felt that the 6V headroom was insufficient to accommodate noise spikes that are commonly present on the power lines. As such, the JMM-512 was modified to accept input voltages of up to 32VDC. This 2V increase was determined to provide sufficient headroom. The modification consisted of replacing the capacitors on the input side with devices that had a higher peak voltage rating. Additional requirements mandated the CPU withstand extreme temperatures and vibration. Diamond Systems' boards already support -40 to +85oC temperature operation, however, additional vibration protection was provided by conformally coating key components, replacing shunts with zero ohm resistors, and providing latching connectors. This solution was subsequently tested and verified to provide ample protection against excessive vibration. The tight space restraints presented yet another challenge. Specific component arrangement, bottom pass-through connectors for the PC/104 interface were provided, allowing the power supply to be mounted below the CPU. This ensured Diamond Systems' solution would properly interface with the communications system without compromising the over-all package size. To ensure flawless performance with the customer's communications board and display, Diamond Systems brought both items in-house to validate proper operations when integrated into the hardware stack. A BIOS modification was required. Since this project is expected to turn into high volume, these changes will be incorporated into a fully custom version of these boards and they will be assigned a unique part number for when the customer goes into production. This is another example of how Diamond Systems' customization program can benefit our customer's broad spectrum of application challenges.
Click here to return to the main article list.