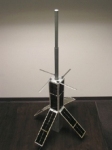 Application Overview:
The satellite, now in orbit at an altitude of 600 miles, was designed by QuakeFinder, a joint venture between satellite services provider Stellar Solutions, Lockheed Martin, and the Space Systems Development Laboratory at Stanford University. QuakeSat is an excellent example of what can be achieved using PC/104 embedded systems technology. A satellite application involves extreme design restrictions that limit the choices of components: Size, weight, power consumption, and ruggedness are of paramount concern. Only PC/104 was able to meet these criteria and provide a suitable computing platform for the QuakeSat electronics. QuakeSat is based on the recent discovery that earthquakes produce very small but measurable disturbances in the Earth's magnetic field. These disturbances are believed to result from large-scale geological effects in the vicinity of theearthquake. They appear as Extremely Low Frequency (ELF) magnetic field fluctuations in the range of 0.05 to 4.0 Hz. These ELF signals can occur several hours up to several days before a large earthquake, potentially providing sufficient warning time to minimize property damage, injuries, and loss of life. Until now, earthquakes have been the only natural disaster unable to be accurately predicted. However, they occur with alarming frequency: A magnitude 6.0 quake occurs about once a week somewhere in the world, while a magnitude 7.0 or greater quake occurs on average once a month. QuakeSat's mission is to prove the ability to reliably detect the tell-tale ELF signals from space and use them to predict earthquakes around the world.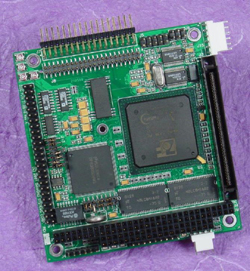 Customer's Requirements:
QuakeSat measures a tiny 4" x 4" x 12". It is designed to fit inside an ultra-miniature satellite enclosure that mounts in a Russian rocket decommissioned as a result of the former START talks. This severe size restriction limited the choices for off-the-shelf CPU boards. Diamond Systems' Prometheus CPU was chosen because it met these key criteria: Miniature size: PC/104 (3.6" x 3.8") was the only easily expandable form factor that fit inside the small enclosure. Integrated design: Combining the processor and data acquisition functions on a single board reduces the size and weight of the CPU and enables more electronics to fit in the satellite. Low power consumption: Power consumption of less than 5 watts minimizes the drain on the satellite's solar-collector power system. Rugged design: Temperature and vibration immunity enables the satellite to survive launch and operate in a space environment with extreme temperature swings. The Prometheus CPU is based on the ZF Micro (National Semiconductor) ZFx86 CPU-on-a-chip, featuring high integration and low power consumption. The board includes processor, memory, Ethernet, serial ports, IDE, and a full analog and digital I/O circuit supported with driver software for multiple operating systems. The Prometheus combines two boards (CPU and I/O) into a single board to reduce the size and weight of an embedded system by 50 percent. The ZFx86 processor, along with selection of low-power components, limits the total power consumption to less than 5 watts. Power consumption in this instance was further reduced by depopulating unused circuitry from the board. QuakeSat runs Linux from a solid state IDE flashdisk module that mounts directly onto the Prometheus board for maximum compactness and ruggedness. For more information on QuakeSat, visit www.quakefinder.com.
Click here to return to the main article list.