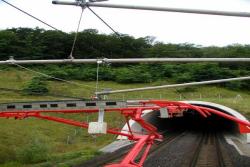 Background
The Austrian Railway Authority (ARA) recently built a new high-speed rail system in Pöchlarm, in the southern region of the country. In order to verify the performance of the system, some tests were conducted with the assistance of the German ICE train system. A major concern was the ability of the overhead power lines to withstand the effects of a train passing by at speeds of up to 300Km/hr (186mph), a new speed record for trains in Austria. The ARA was interested to find out what would happen to the overhead wire of the electric train system when the pantograph, the device on top of an electric rail car that contacts the wire, passed by at high speed. Of particular interest was the activity at the points where the wire is suspended by the flexible cantilevers that provide its support system. The plan was to measure the vertical rise of the wire at this contact point resulting from the impulse that occurs when the pantograph passes underneath it, as well as the ensuing decaying vibration. In order to carry out the tests the ARA enlisted the help of Aplica, an engineering research company located in Vienna.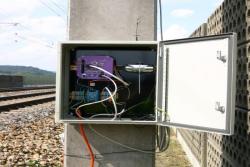 Solution
Aplica designed a test system that would measure impulses at 10 different poles along a section of the track. A data collection system was installed at each pole. Each system had to transmit its data in real time back to a central point, so that the researchers could quickly decide whether to allow the test to continue or whether they needed to abort the test to prevent possible damage to the overhead wire. The data collection system consisted of the Diamond Systems Prometheus PC/104 CPU with integrated data acquisition for the physical measurements, along with a GPRS wireless modem for data communication back to the central location. The computer system was housed inside the Diamond Systems Pandora enclosure. Aplica calls this system their "Green Node". This Green Node includes special data compression software utilizing Aplica's proprietary "Green Eye Data Format", which reduces the size of the packet data transmitted over the wireless network, in order to reduce data transmission time. This complete hardware subsystem was then installed in a larger enclosure along with power and other electronics. Immediately after the pantograph passed by a node, the data collection system at that node transmitted its data back to a special FTP server, where the researchers were standing by to receive the data and analyze it. There they used additional proprietary visualization software called SAM to graph the data for visual analysis. Based on the results of the experiment, it was determined that the overhead electric power line was able to sustain the effects of a high speed train passing by underneath, allowing the train system to begin operation.
Click here to return to the main article list.