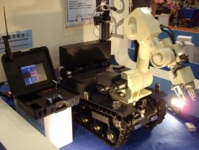 Spinel Technology
of Taiwan has introduced a new intelligent, remote controlled robot for use in situations that are dangerous to human life. The Mantis robot can be used for a variety of purposes including explosives or hazardous material removal, dangerous field detection, fire brigade assistance, security and anti-violent situations, and reconnaissance and rescue.
Equipped with an intelligent remote display with GUI touch screen, cameras, GPS and a dual wireless LAN, the robot can be directed remotely at a distance of up to 300m outdoors. Its caterpillar tracks allow to robot to easily cross rough or uneven terrain while its rugged design allows it to enter harsh environments.
The robot has complete environmental sensing capabilities with a three lens vision system, thermo camera detect system, and both a LASER and ultrasonic ranger. The robot's arm has six degrees of freedom to grasp objects anywhere within its 120cm reach and carry a load of up to 10Kg to a place of safety. The robot is powered by a re-chargeable 24V/50AH battery allowing it to operate continuously for up to one hour. The remote control panel controls and displays the robot's three camera images via wireless Giga-B Ethernet in real-time.
The heart and soul of the robot is Diamond Systems' Poseidon EPIC single board computer (SBC) that simultaneously controls the robots actions and gathers and relays data. The Poseidon SBC, along with an analog image capture card, connects directly to the control, sensing and display systems. The Poseidon SBC was selected for its processing power, highly integrated I/O and harsh environmental operating characteristics. As the robot is used in extreme and hazardous working conditions, a wide operating temperature range and rugged specifications were critical.
Deployed thus far only in Taiwan, the Mantis robot is selflessly performing many dangerous tasks, resolving hazardous situations while protecting the lives of people.
Click here to return to the main article list.