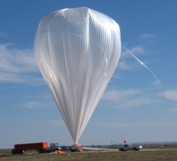 Beginning on Saturday, May 31, 2008, New Mexico State University (NMSU) successfully conducted a series of research experiments as part of a NASA high altitude research balloon flight. The payload flew on the NASA 37H balloon mission out of Fort Sumner, New Mexico. Liftoff was approximately 8:45 am and the scientists conducted various engineering experiments until approximately 4 am on June 1 when NMSU's portion of the mission was over. During the course of the mission, the balloon reached its anticipated altitude of 120,000 feet.

Using a PC/104 based computer system integrated from commercially available products, the University researchers were able to conduct the series of engineering tasks and collect the desired mission science data for many hours. Throughout the mission, the payload was successfully controlled from the control stations at Fort Sumner, New Mexico, and Holbrook, Arizona, as well as remotely from the NMSU campus via Internet connections to the two control stations.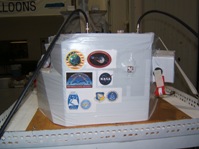 The NMSU PC/104 computer system was built around Diamond Systems' Athena II single board computer (SBC), Emerald 8-port serial I/O module, Pearl opto-isolated relay module, and Jupiter power supply module. The Athena II SBC ran a Windows 2000 operating system and the flight software was a LabVIEW-based program developed at NMSU and running from the integrated 4GB IDE flash drive. Integration of the hardware and software system components at NMSU went smoothly with no issues. The four USB ports on the Athena II SBC were used for integrating the camera and National Instruments' ADC modules. Extended operating temperature of the components was critical as the SBC operated continuously for twenty hours with no problems, often reaching a sustained operating temperature of 75oC.

Originally targeted as a small satellite payload, NMSU opted for the high attitude balloon flight as they were unable to secure a ride in orbit with the Air Force, the original sponsors of the project. Overall the researchers were very pleased with the success of the mission and their ability to complete the suite of experiments. Evaluation of the data continued for several weeks after the payload was retrieved from the balloon and the scientists examined the additional data stored in the computer system itself.

Click here to return to the main article list.