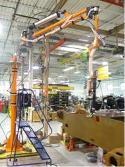 An automotive equipment manufacturer has recently introduced a precision industrial automation tool that reliably and efficiently drives fasteners (nuts and bolts) during the high speed, automated production of automobiles. A key feature of the fastener tool is the flexibility to be configured for single spindle operation, one nut at a time, or multiple spindle operation, for example installing a wheel in one single motion. The fastener torque tool also captures and reports detailed production data including at the vehicles assembly level for quality validation and manufacturing history.
The fastener tool consists of a robotic arm that is accurately moved around the automobile in three dimensions, locates the precise position of the desired fastener and secures the fastener with the programmed force. The arm is controlled by a control system that is often located in the ceilings or walls of assembly plants some distance from the robot arm coupled with a hand-held user interface device.
Customer Requirements
In developing the fastener tool, the manufacturer required a wide-temperature, low-power single board computer that met its reliability and cost needs. As automobile plants operate 24/7 and are located all over the world, they cannot afford costly downtime while a repair technician travels to the site, so the tool and its components had to be highly reliable. With the fastener tool installed on the factory floor and heat-generating motor drive circuits in the control system housing, the system must survive high temperatures, which is especially of concern in warmer climates. The manufacturer was also extremely cost conscious due to their high volume of several thousand units per year.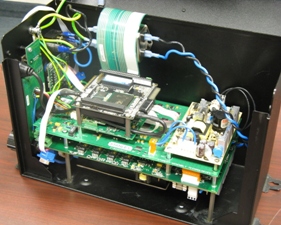 Meeting the Needs
Diamond Systems was able to satisfy the manufacturer's needs with a modified version of its Athena II single board computer (SBC). The brain of the control system is the Athena II which drives the motors that turn the fasteners during the assembly process. Athena II's repeated successes in high reliability, rugged applications such as military vehicles proved its ability to satisfy the manufacturer's reliability concerns. The Athena II SBC is rated for -40oC to +85oC fan-less operation, so it easily met the application's high temperature requirement. To help reduce cost, the on-board memory capacity was reduced from the standard 256MB to 128MB, which was sufficient for the application.
Added Value
Diamond Systems provided further value to the manufacturer by supplying a kit consisting of custom I/O cables and an IDE flashdisk pre-programmed with the manufacturer's embedded operating system image. This reduced the planning and purchasing efforts for the manufacturer and simplified the final assembly of the fastener tool as all related components could be delivered to the controller assembly area at the same time and in the correct quantities.
Click here to return to the main article list.