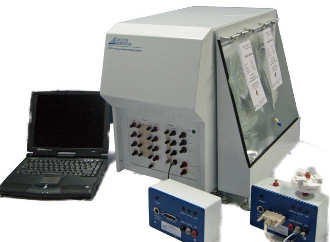 Groton Biosystems is an ISO certified analytical equipment manufacturer headquartered in Boxborough, Massachusetts. The firm's commitment is to deliver innovative solutions for today's liquid process challenges. Recently Groton introduced their new ARS-M Automated Reactor Sampling System with improved performance and a smaller footprint.

Groton's ARS series of automated reactor sampling systems is a family of on-line bioreactor auto-samplers that can sample from up to eight reactors and deliver to up to four analytical instruments. The ARS series is specifically designed for companies looking to be aligned with the FDA's Process Analytical Technology Initiative. An ARS system is ideal for reducing product development cycles, maximizing R&D and production results, and tracking overall product quality. The ARS features method development software to allow a sequence of operations lasting hours, days, and even weeks. The ARS permits scheduled sampling of up to eight bioreactors 24 hours a day, 7 days a week and eliminates labor intensive, manual sampling processes.


The precision design of the ARS pulls and delivers the sample with outstanding consistency to ensure accurate assay results while minimizing the amount of sample required from the reactor. The ARS can acquire and deliver sample from any input port (maximum of eight) to any output port (maximum of four). There is no manual configuration required and the design allows for maximum flexibility under software control. In addition to pulling the sample, the ARS can prepare the sample for further processing or analysis.

The actual capturing and delivering of the liquid sample is managed by a compact computing sub-system integrated into the ARS-M. Whether gathering a sample from a container as small as a shot glass or as large as a 5,000 gallon tank, critical to successful sampling is the precision collection process which gathers the exact amount of reactor necessary.

Driving this sampling process is an EBX CPU board and two PC/104 I/O modules from Diamond Systems; a GPIO-MM-21 digital I/O module and a Pearl-MM relay output module. The GPIO-MM module controls a bank of 48 dry contact relays. This bank of relays, plus 8 SPDT relay connections from the Pearl-MM, drives the many sampling channels of the ARS-M by controlling a series of low voltage solenoids to open and close extraction tubes, pulling the desired sample.

Timing is critical in capturing the sample and Diamond Systems' products ably manage the process with precision. Groton selected Diamond's I/O products for their high density of I/O channels, pin compatibility with other components in the system, small footprint and low cost.

Groton Biosystems' clients have seen significantly improved product yields as a result of the efficiencies created by the ARS-M system. Originally designed for the biopharmaceutical industry, the ARS family is now also finding applications in the BioFuel and Food and Beverage industries.

Click here to return to the main article list.