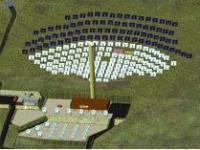 In the idyllic Alps of southeastern France, a government sponsored research project converted a 1980s experimental solar plant into a modern hybrid solar/gas furnace. The existing solar plant consisted of an array of two hundred mirrors used to gather the sun's rays. Needless to say, the plant electronics were obsolete and in need of replacement.

The design team responsible for conversion of the solar plant specified ruggedized components with extended operating temperature ranges due to the harsh, high altitude environment. In addition, they required that COTS components were to be used to reduce the design cost.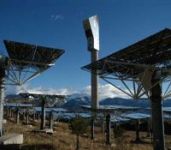 To manage the movement and monitoring of the mirror array, one independent motion control computer system was specified for the control of each mirror. Each motion control system was responsible for rotating the mirror along two axes to maximize solar collection. Monitoring of each mirror's motion angle and speed was done via optical sensors at the mirror which relayed a set of TTL pulses back to the motion control system.

The first design of the motion control system consisted of a 266MHz Celeron III PC/104 CPU with a Diamond Systems' 48 channel digital I/O PC/104 module with counters, the GPIO-MM-XT. However, further systems analysis revealed that simple counters were not up to the task due to the real-time measurement of the de-phased signals coming from the mirror.

Rather than abandon the initial design and start over, the design team was able to utilize the FPGA capability of the GPIO-MM-XT and create a new personality for the digital I/O module. This new personality included emulating the functionality of an incremental encoder chip for processing the signals and adding other interruptible I/O. This new functionality easily handled the I/O demands of the system. The customization of the GPIO was accomplished quickly with the design phase lasting several weeks and the production of the initial prototypes taking less than two months.

The flexibility of Diamond Systems' GPIO-MM-XT design allowed the project to stay on schedule through quick design and fast prototyping. The project also remained within budget by spreading the NRE cost for the design effort as a small incremental increase across the unit price of the boards.

Today France has a potential new source of efficient energy and the GPIO-MM-XT has a new personality ready for other motion control applications needing incremental encoders.

Click here to return to the main article list.