Crossing Automation is a leading supplier of efficient, cost-effective front-end and back-end automation solutions and engineering services to high volume semiconductor equipment manufacturers. One of its key systems is a family of standard mechanical interface (SMIF) input/output (I/O) devices designed to protect products from contamination while providing a standard mechanical interface to wafer fabrication production tools.

Crossing's SMIF-LPT (Load Port Transfer) is an ergonomically designed SMIF-I/O that easily integrates SMIF-Pod cassette loading and unloading into a wide variety of 200 mm and 150 mm wafer processing and metrology tools. The SMIF-LPT is designed for adaptive and equipment manufacturer applications for vacuum load-lock tools, which require an external lateral cassette transfer mechanism. At the heart of the SMIF-LPT is a PC/104 embedded computer that controls the servo interface to the mini environment and its transition to the transfer wafer box.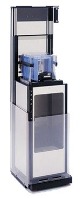 Driven by the obsolescence of the single board computer (SBC) in its current SMIF-LPT system, Crossing Automation was faced with a redesign for a new version of the system. Critical to the redesign was identifying a new computing platform. Crossing needed a drop in replacement SBC to accelerate time to market, wanted an SBC with a long product life, and desired a lower cost solution.

After evaluating several alternatives, Diamond Systems' Helios SBC was selected as the best replacement product for the SMIF-LPT. Helios is a PC/104 SBC that provided all of the I/O necessary for the LPT system. Testing proved that Helios ran the DR.DOS operating system that Crossing used, and, with after Diamond made a simple BIOS change, Crossing's application software ran without a single line of code being changed. Finally, a 128MB IDE flashdisk containing both the operating system and application software was integrated with Helios, providing a complete, self-booting computing engine for the SMIF-LPT.

Diamond's Helios single board computer was indeed a drop in replacement for Crossing's obsolete SBC and the design work was completed sooner than planned. Diamond now provides a complete computing solution to Crossing Automation that includes the Helios SBC with bootable OS and application software pre-loaded on the flashdisk, and a serial cable, all at a significantly lower cost than the previous SBC alone.

Click here to return to the main article list.