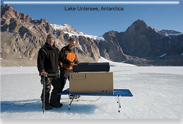 Los Gatos Research (LGR) is the world leader in high performance analyzers for measuring trace constituents of gases and liquids. LGR develops innovative laser-based measurement strategies for non-destructive analyses of gases, liquids and solids. LGR has demonstrated expertise in the areas of optical diagnostics, laser spectroscopy, physical chemistry, and MEMS science, creating leading-edge instruments for leading-edge research.

LGR's products include families of water analyzers, gas concentration analyzers, and isotope analyzers. Their products are simple to use, lower power and rugged, and yet provide the most capability available. They are used in a wide variety of applications including in the Gulf of Mexico to measure methane concentration under the ocean as a result of the Gulf oil spill, on top of volcanoes measuring isotopes of water vapor, and detecting concentration of gases in Antarctica.

Based on LGR's leading edge technology, their gas analyzers measure greenhouse gases in a fraction of the time of other analyzers. They have the unique ability to measure all three greenhouse gases simultaneously and display the entire absorption spectra to the user in real time.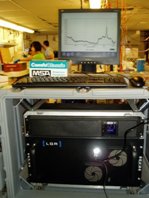 The Fast Greenhouse Gas Analyzer has an internal computer running a Linux OS that can store data practically indefinitely on its hard disk drive and send real time data to a data logger via the RS-232 or Ethernet outputs. As with all LGR analyzers, the Fast Greenhouse Gas Analyzer may be controlled remotely via the internet using suitable "KVM over IP" devices. This capability allows the user to operate the analyzer using a web browser practically anywhere internet access is available. Furthermore, remote access allows BIOS-level control of the instrument and provides the opportunity to obtain data and to diagnose the instrument operation without being on site.

Integral in many of LGR's water and gas analyzers is a Diamond Systems' Ruby four channel 16-bit PC/104 analog output module. The Ruby-MM-416-XT module provides four channels of 16-bit resolution analog voltage output. The output range for each channel can be independently selected for 0-10V, ±5V, or ±10V with jumpers. All outputs are updated simultaneously, either with a software command or in response to an external signal. The board also includes 24 lines of digital I/O.

The Ruby analog output module was selected by LGR because of its high performance, small size and low cost. Able to operate between -40oC and +85oC, Ruby also provided the ruggedness that LGR required to operate in extremes of temperature and altitude, ranging from the peak of an active volcano to the glaciers of Antarctica.

LGR recently introduced a new, higher performance gas analyzer using Diamond's Pluto Atom-based single board computer as its internal computer. Pluto is a highly integrated single board computer using the Intel Atom N270 CPU and has connectors and interfaces for keyboard, mouse, USB, serial, parallel, Ethernet, sound, and various mass storage devices. It supports the connection of a wide variety of displays, including CRTs and 18-bit or 24-bit LVDS-interfaced flat panels. Pluto also has a conductive cooled thermal solution built in and is extremely rugged, an ideal choice for LGR's portable analyzers.

Diamond's products help Los Gatos Research design and develop state-of-the-art instruments for scientists and researchers around the world to gain a better understanding our environment.

Click here to return to the main article list.