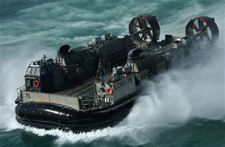 At the heart of the US Navy's amphibious warfare strategy is its fleet of ninety-one Landing Craft, Air Cushion (LCAC) vehicles. The LCAC is an air cushion craft used to transport, both ship-to-shore and across the beach, personnel, weapons, equipment, and cargo of the assault elements of the Marine Air-Ground Task Force. The 87 foot long, 47 foot wide hovercraft is a high-speed, over-the-beach fully amphibious landing craft capable of carrying up to 75 tons of troops, gear and equipment and traveling at speeds topping 45 miles per hour. The advantages of LCAC air-cushion landing craft are numerous. They can carry heavy payloads, such as an M-1 tank, at high speeds. Their payload and speed mean more forces reach the shore in a shorter time, with shorter intervals between trips. The air cushion allows this vehicle to reach more than 70 percent of the world's coastline, while conventional landing craft can land at only 15 percent of the coasts.

The LCAC fleet was initially launched over twenty years ago and has seen numerous upgrades to improve performance and extend the life of the craft over the past two decades. A US prime contractor recently provided shipboard network infrastructure upgrades to the LCAC fleet for all of the networks aboard the LCAC, including navigation, control and communications. The upgraded network infrastructure had to support more distinct and redundant networks, offer increased overall data throughput, and support rigorous network security. To meet the Navy's requirements, the prime contractor required a rugged off-the-shelf Gigabit Ethernet switch with 8 ports housed in an environmentally protective enclosure. The switch needed to be configurable, support redundant networks and offer data and network security. The enclosure itself had to be highly resistant to shock and vibration, waterproof and salt-spray resistant.

After evaluating several alternatives for the network switch, the prime contractor selected Diamond Systems' rugged Raptor embedded Ethernet system and implemented two switch systems on each LCAC to provide for the networking redundancy. Each Raptor system houses a Diamond Epsilon-8000 Gigabit Ethernet switch product. The Epsilon switch is a managed Layer 2+ Ethernet switch offering eight 10/100/1000Mbps copper twisted pair ports. Epsilon has a built-in microcontroller that handles configuration and management. On-board memory holds dual application images, boot code, MAC addresses, and other parameters, and can also be used for program execution. An RS-232 serial port enables communication between the module's on-board management microcontroller and a host processor for out-of-band management. The built-in microcontroller is also accessible via a web management interface over one of the Ethernet ports.

Epsilon's port-by-port flexibility allowed each port to be configured and managed independently. Its data and account security features set up specific secure ports and networks for sensitive or classified data. The two Epsilon switches were mirrored and linked together, creating a redundant two-switch network backbone for all of the navigation, control and communication activity aboard the LCAC vehicle.

With respect to the LCAC's stringent environmental specifications, the Raptor enclosure and Epsilon-8100 switch were designed to perform in harsh environmental conditions such as these. The Epsilon switch operates over an extended operating temperature of -40oC to +85oC with an operating humidity of 90% and is highly resistant to shock and vibration. The sealed Raptor enclosure is compliant with MIL-STD-202G for shock and vibration specifications, using MIL D38999 connectors on the enclosure and latching connectors on the switch. The sealed aluminum chassis is IP 65 rated, being sealed, waterproof and salt spray resistant. Diamond's rugged Raptor embedded Ethernet system was an ideal choice for the LCAC on-board networking infrastructure. It offered all of the networking features including redundancy and security, and met all of the harsh environmental requirements.

The appearance of U.S. Department of Defense (DoD) visual information does not imply or constitute DoD endorsement.

Click here to return to the main article list.