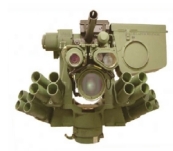 Application Overview:
The primary feature of this weapon station is an aim and fire function called: Detached Line Of Sight (DLOS) It maintains the sensors optical line of sight, separated from the weapon line of bore, i.e. ballistic correction of the weapon which does not affect the operator's line of sight to the target. DLOS allows the weapon the ability to use optical magnification for close-ups of target areas.
Customer's Requirements:
The system required a small formfactor computing platform with full analog, digital, and serial I/O with and a display interface. The customer had already designed in a competitor's PC104 product which failed during environmental validation tests. After several unsuccessful attempts to work with the incumbent supplier, Diamond Systems was given the opportunity to demonstrate their skills of product ruggedization.
Diamond's Baseline of Technologies:
The Ruggedized PC104 family of products became the natural starting point. Diamond's Athena CPU (ATH400-128) for the computing and control of the gunnery system.
Provisioning Services:
This application made use of several Diamond Systems extended services. • Standard Product Variant • Conformal Coating • Product Ruggedization • Level 1 Hardware Core Integration Diamond's Athena CPU was chosen as a potential solution because it would require only modest product rework from a standard product. Since the vehicle would likely see action in extreme environments such as water, sand, high temperatures etc., the customer elected to take advantage of Diamond Systems Product Ruggedization Services by conformally coating the PCB and flash disk. It was also anticipated that the gunnery system would be exposed to extreme shock and vibration. This was verified when it was discovered that the incumbent's PC/104 connectors were degrading due to high vibration. This called for further Product Ruggedization in order pass MIL 810 vibration standards. Diamond Systems replaced all standard connectors with latching connectors with increased contact plating. The PC/104 connector was replaced by a high reliability MIL style connector. Selector shunts were replaced with zero Ohm resistors to eliminate any possible dislodging of the shunts due to vibration or misapplication. Finally, to counter act the effects of extreme vibration over and above that of the MIL 810 vibration specification, all of the BGA chips were under filled to eliminate any solder bond cracking between the board and the BGA lands.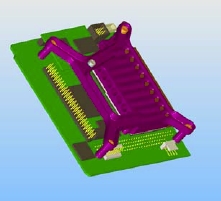 In order to assure consistent and reliable thermal management in this rugged, high vibration environment, Diamond Systems worked with the customer to create a custom heat sink that would equalize vibration resistance utilizing several legs positioned about the PCB with a thermal contact pad to eliminate the effects of shock vibration from being transferred from the heat sink to the BGA. After retesting, the Diamond Systems solution successfully passed all of the higher vibration test requirements. Since the gunnery system included a special "high light" display, some customization was required here as well. Diamond Systems wrote special BIOS code to enable peek performance with their display. This is just yet another example of how Diamond Systems' extended services program can benefit our customer's broad spectrum of application challenges.
Click here to return to the main article list.