Products
>
Services
>
End-of-Life Products
>
Opal-MM
Opal-MM
8 Channel Optoisolated Input & 8 Relay Output PC/104 Module
| | |
| --- | --- |
| | Description |
Opal-MM is a PC/104 format digital I/O module designed for industrial applications requiring isolation between the computer and the external signals it is monitoring and controlling. This module features 8 optoisolated digital inputs and 8 relay outputs. Each input can accept both AC and DC voltages as low as 3V and as high as 24V.
An on-board input filter circuit allows the sensing of AC inputs from 40Hz to 100KHz. The presence of an appropriate AC input signal will generate a DC signal at the output that can be read by the computer. This filter circuit is selectable on a channel by channel basis.
The 8 relay outputs are SPDT format (form C). Each relay has 3 contacts: Common, Normally Open, and Normally Closed. For safety and reliability, all relays are at their power-off state at power-up or system reset. Each relay can switch both AC and DC voltages.
All I/O is isolated from the PC up to 500V AC or DC. The relays have long lifetime (10,000,000 operations) and quick actuation time (5ms max operate and release). A single 40-pin I/O header is used for all I/O.
Please note: Individual input and output channels are not isolated from each other at this voltage. The isolation specification applies only between the I/O points as a group and the remainder of the circuitry. AC Input Operation
Opal-MM can monitor AC inputs as well as DC inputs. A low-pass filter is provided for each input line that can be switched on independently for each channel for AC operation. With this filter switched on, a sine wave or square wave signal with 40Hz or higher frequency and 3V to 24V peak-to-peak amplitude will appear as a steady-state DC signal to the board and can be read reliably by the user's program.
Opal-MM provides isolation on its input and output lines. The board will withstand up to 500V DC or AC difference in potential between the I/O lines and the rest of the board's circuitry. Note: This isolation specification does not apply between individual input or output channels; it applies only between the I/O lines and the board. In many applications, channel-to-channel isolation is not required; frequently the inputs or outputs all share a common line, requiring only isolation between the I/O lines as a group and the control circuitry. Please verify the configuration and isolation requirements of your application before selecting any isolated I/O board. Each input and output channel on Opal-MM is completely independent and does not share any signal trace with any other channel. Therefore, every channel is isolated from every other channel. However, the trace spacing at the I/O connector does not satisfy requirements for the 500V rating. If high isolation is required between individual channels, do not use this product. See Pearl-MM instead.
| | | | |
| --- | --- | --- | --- |
| OUT 7 C | 1 | 2 | OUT 6C |
| OUT 7 NC | 3 | 4 | OUT 6 NC |
| OUT 7 NO | 5 | 6 | OUT 6 NO |
| OUT 5 C | 7 | 8 | OUT 4 C |
| OUT 5 NC | 9 | 10 | OUT 4 NC |
| OUT 5 NO | 11 | 12 | OUT 4 NO |
| OUT 3 C | 13 | 14 | OUT 2 C |
| OUT 3 NC | 15 | 16 | OUT 2 NC |
| OUT 3 NO | 17 | 18 | OUT 2 NO |
| OUT 1 C | 19 | 20 | OUT 0 C |
| OUT 1 NC | 21 | 22 | OUT 0 NC |
| OUT 1 NO | 23 | 24 | OUT 0 NO |
| IN 7 A | 25 | 26 | IN 7 B |
| IN 6 A | 27 | 28 | IN 6 B |
| IN 5 A | 29 | 30 | IN 5 B |
| IN 4 A | 31 | 32 | IN 4 B |
| IN 3 A | 33 | 34 | IN 3 B |
| IN 2 A | 35 | 36 | IN 2 B |
| IN 1 A | 37 | 38 | IN 1 B |
| IN 0 A | 39 | 40 | IN 0 B |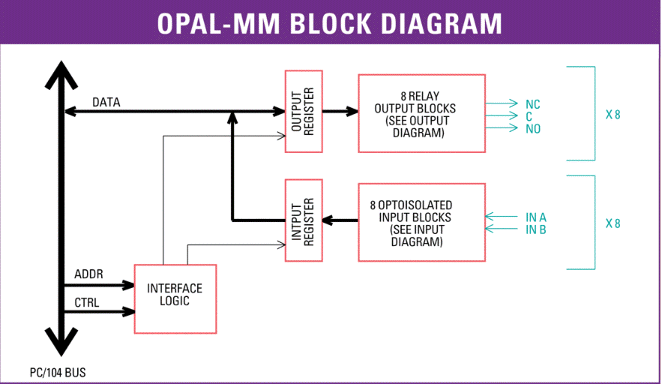 Optoisolated Inputs

Inputs

8 nonpolarized optoisolators

Input volt.

DC inputs:

3V min, 24V max, not polarized

AC inputs:

3V p-p min, 24V p-p max, 40Hz or greater

Input switch time

100mx max

Input impedance

1.8KΩ min

AC input filter

Selectable on a per-channel basis

Relay Outputs

Outputs

8 relays

Relay type

SPDT (Form C)

Max power

DC:

30VDC/1A

AC:

125VAC/0.1A resistive, 125VAC/0.2A inductive

Max switching cap.

30W (DC), 50VA (AC)

Max operating voltage

220DVC, 250VAC

Contact resistance

50mΩ max

Relay lifetime

10,000,000 operations

Actuation time

5ms max, operate or release

General

I/O header

42 x 20 pin header; on .1" connecters

Mating Cable:

DSC #C-40-18

Isolation (all I/O)

500VDC or AC, input to board or board to output

Power supply

+5VDC ±10%

Current consumption

200mA typical, all relays off; Additional 40mA per activated relay

Operating temp.

-40°C to +85°C

Weight

3.0oz/85g

RoHS

Compliant
| | | |
| --- | --- | --- |
| | Opal-MM | |