Conformal Coating
| | |
| --- | --- |
| | Description |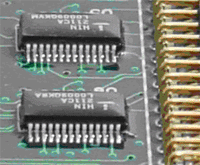 Conformal coating is a means of protecting an electronic circuit board from damage due to moisture or fungus. It is popular for products which will be used in outdoors environments or vehicles. The coating consists of a non-conductive compound that covers all surfaces except those required for electrical or thermal connections. It is clearly visible as a clear, shiny, paint-like material. Some coatings are hard, while others have a slightly rubbery texture. Most coatings include a marker that appears bright greenish-blue under a blacklight (UV). This marker enables easy inspection of the coating thoroughness. The conformal coating process is as follows:
Board is cleaned and lightly etched to enable the coating to adhere reliably.
Protected areas are masked off or disassembled (see below).
Coating is applied using a spray process. Both sides, as well as the edges, are coated.
Coating is cured using slightly elevated temperatures according to the coating type.
Masking is removed and any removed parts are reassembled. Jumpers are reinstalled on jumper blocks.
Board undergoes full production test to ensure reliable operation.
| | |
| --- | --- |
| | Eligible Products |
Conformal coating is available for all board-level products manufactured by Diamond Systems, including CPU boards and I/O boards. It is also available for our flashdisk memory modules. Coating is not available for cables, hardware, accessories. For conformal coating on resale products, please contact us.
| | |
| --- | --- |
| | Coating Types |
Diamond Systems offers 3 standard types of conformal coating. All coating is done by an outside service provider who specializes in conformal coating and provides services according to industry-standard practices.
Acrylic Resin (AR): Humiseal 1B31 or 1B73. Acrylic is the most popular type, as it is the easiest to apply and easiest to rework afterwards should board repair become necessary. [datasheet 1] [datasheet 2]
Urethane (UR): Hysol PC18M. [datasheet]
Silicone (SI): Dow Corning 1-2620. Easy to rework; offers excellent adhesion to boards. [datasheet]
| | |
| --- | --- |
| | Masked / Uncoated Components |
The following components are masked off before coating:
Contact surfaces of all I/O connectors
Contact surfaces of all bus connectors
Configuration jumper blocks
Component surfaces that contact heat sinks (heat sinks are removed prior to coating)
Board mounting holes
All these components will be fully functional after coating. The customer may specify additional areas to be protected from the coating if desired. Normally the serial number label and any other board labels are coated as well.
| | |
| --- | --- |
| | Price and Leadtime |
The price for conformal coating is the same for all coating types but varies according to the type of board: COM-based SBCs, PC/104, EBX, or memory module. The cost includes a minimum lot charge. Once the minimum is met, the price per board is based on the type of board: PC/104, EBX, or Flashdisk. Conformal coating generally requires 8-10 business days. This additional time will be built into the delivery date quoted for your order.
| | |
| --- | --- |
| | Warranty and Repair |
The Diamond Systems 2 year warranty still applies to most boards after conformal coating is applied. Consult with our Sales department for final determination.

The warranty will not apply if the customer attempts rework on the board, because reworking a coated board is more difficult and may result in to damage the component pads and traces if not done carefully. Components can still be removed and replaced if necessary by Diamond Systems' repair department.

For more information, please contact your sales representative or Diamond Systems at:

(1) 650-810-2500 or email us at techinfo@diamondsystems.com