Perfect-Fit Solutions
Diamond Systems' perfect-fit embedded solutions optimize feature density, size, and cost using innovative ideas and technologies and meeting the requirement of our customer's specific application.
We understand that every customer's requirements are unique. Our consultative approach to embedded system design results in greater economy and functionality than traditional off-the-shelf solutions, while meeting customer's needs more precisely. We meet with our customers to understand their requirements, jointly discuss alternatives and techniques, and then help our customers define an optimized solution that meets their specific needs.

Athena III 2-in-1 SBC

Traditional small form factor solutions, consisting of multiple vendors' boards in a tall stack, are often too large and expensive, and suffer from interoperability issues, reduced reliability and unwanted hardware. In contrast, Diamond's single board computers and embedded solutions reduce size and cost by offering higher integration and innovative design concepts. Our 2-in-1 SBCs combine traditional SBC functionality with on-board data acquisition and other additional functionality.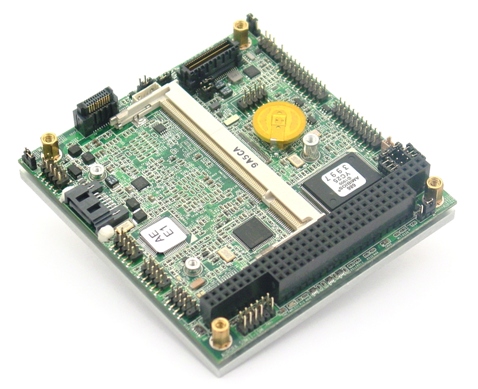 Aurora conduction cooled SBC

Many of our single board computers use conduction-cooled heat spreaders instead of traditional heat sinks for improved thermal dissipation and increased reliability. Expansion I/O modules can easily be stacked above the SBC. These techniques offer the maximum functional density in the smallest volume, while effectively solving heat, space, weight, cost, and reliability problems.

| | |
| --- | --- |
| | Benefits of Perfect-Fit Solutions |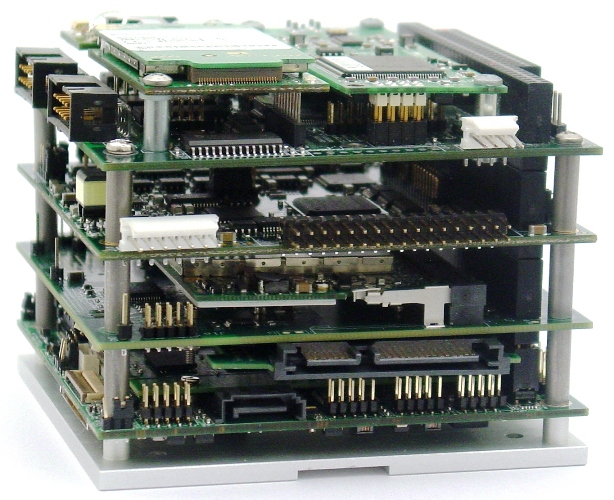 Perfect-Fit system with conduction cooled SBC, 4 Ethernet, Wi-Fi, analog, GPS, 2 CAN & SATA SSD


Perfect-Fit solutions offer many benefits including:
Lower size, weight, power, and cost compared to off-the-shelf systems
Optimum combination of features - pay only for what you need
Higher functionality in a smaller volume
One supplier for the entire program simplifies engineering, planning, purchasing and support activities
Reduce time to market by reuse of proven CPU and I/O designs
Working with Diamond is like bringing an R&D partner on-board. Together we will engage in a consultative relationship to define specifications, agree on a proposal, build prototypes and begin production. Diamond's development approach reduces design risk by using state-of-the-art functional design blocks, allowing us the flexibility to produce a solution that meets the specifications in less time and at a lower development cost.
| | |
| --- | --- |
| | Perfect-Fit Solution Offerings |
Whether an application requires a simple product variant or demands a full custom design, Diamond Systems works with you to quickly and efficiently produce a solution to fit your embedded computing application. We will work together in a phased project approach, beginning with a Definition Phase, followed by a Design Phase, Prototype Phase and then finally full production.
| | |
| --- | --- |
| | Customer Examples |
Military On-vehicle Diagnostic and Control System
System Integration of a PC/104 Stack
The US Army needed to extend the reliability of their vehicles in theater. Using innovative techniques such as conduction cooling, plus utilizing our small form factor expertise, Diamond designed two full-custom PC/104 single board computers plus a custom PC/104 I/O module to fit inside their small existing enclosure, meeting the prime contractor's stringent size and cost requirements. We provided higher computing power, increased upper operating temperature limit, and increased reliability over available off-the-shelf products. Diamond helped the contractor meet their performance and cost goals, while the Army benefited from increased reliability, reduced expenses, increased vehicle lifetime, and safer troop travel.

Intelligent Lighting Automation Controller
Customized Single Board Computer


A building automation company needed a cost-effective, reliable computing platform for intelligent building lighting management. Networking, wide input voltage, wide operating temperature, and low cost were key requirements driving their development. Diamond met the challenge by designing a custom single board computer based on our existing low-cost, low-power Helios SBC. We removed circuitry not needed by the customer to reduce cost, and added required extra functionality. Our 2-in-1 (computer + I/O) solution provided everything the customer needed in a single board, reducing cost, minimizing overall system size, and simplifing system assembly.

Alternative Energy Generation System
Customized Single Board Computer


A large energy corporation required a low performance, low cost SBC for a new alternative energy generation system they were soon bringing to market. To meet their schedule and technical requirements, Diamond redesigned its Pegasus SBC, adding more RAM capacity, 2 serial ports, and upgrading to a Gigabit Ethernet port. Our fast track re-design delivered the new SBC on time and with the customer's required functionality.



The Diamond Systems logo is a trademark of Diamond Systems Corporation. PC/104, PC/104-Plus, PCIe/104, EPIC, and EBX are trademarks of the PC/104 Embedded Consortium. SUMIT is a trademark of the SFF-SIG. All other trademarks are the properties of their respective owners.
| | | |
| --- | --- | --- |
| | Markets & Applications | |
| | | |
| --- | --- | --- |
| | Products & Technologies | |
| | |
| --- | --- |
| | Single Board Computers |
| | Wide range of processor speeds and performance |
| | Computer-on-Modules |
| | Coduction Cooling |
| | Analog I/O |
| | Digital I/O |
| | Counter/timers |
| | Serial & Ethernet |
| | CANbus |
| | GPS/Wireless |
| | DC/DC Power Supplies |
| | Enclosures |
| | OS & Driver Software |
| | FPGA logic design |
| | A/D Autocalibration |
| | | |
| --- | --- | --- |
| | Value-added Capabilities | |
| | | |
| --- | --- | --- |
| | Customer Benefits | |
| | |
| --- | --- |
| | Single Supplier |
| | Guaranteed Compatibility |
| | Improved Accurancy |
| | Reduced Size/Cost |
| | Increased Ruggedness |
| | Increased Reliability |
| | Easy System Expansion |